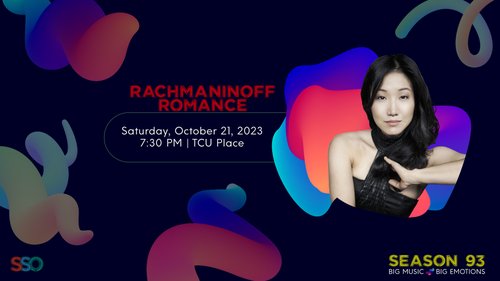 2023
Oct 21
7:30 PM — 9:30 PM
TCU Place, Sid Buckwold Theatre
35 – 22nd Street East
Saskatoon SK
S7K 0C8
Treaty 6 Territory
Cost: Varies
Worship: A Concert Overture – Coleridge-Taylor Perkinson
Rhapsody on a Theme of Paganini, Op. 43 – Sergei Rachmaninoff
Symphony No. 7 in D Minor, Op. 70 – Antonín Dvořák
Maestro Yue Bao is one of the top-class rising star young conductors of her generation, and she makes her SSO debut in a night of lush romantic music.
Internationally renowned pianist Lucille Chung makes a long-awaited debut with the SSO in a performance of Rachmaninoff's deeply passionate Rhapsody on a Theme of Paganini, Op. 43.
Bao closes out the show with the SSO performing Dvořák's 7th Symphony. We can't wait to share this music that the composer himself said was a work to stir the world!
Not just a reference to the cold winters, #25Below creates greater access to SSO performances with discounted tickets for anyone 25 years of age or younger.
Visit
https://saskatoonsymphony.org/25below/
for more information.
2023
Oct 21
7:30 PM — 9:30 PM
TCU Place, Sid Buckwold Theatre
35 – 22nd Street East
Saskatoon SK
S7K 0C8
Cost: Varies
Organizer
Accessibility
Wheelchair Accessible
Safe and Inclusive Space