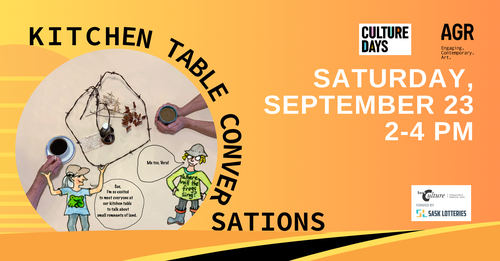 2023
Sep 23
2:00 PM — 4:00 PM
Art Gallery of Regina
2420 Elphinstone Street
Regina SK
S4T 1V4
Treaty 4 Territory
Map
Cost: Free
Kitchen Table Conversations with Vera & Sue
Kitchen Table Conversations with Vera & Sue
DATE: Saturday, September 23
TIME: 2-4 PM
LOCATION: Art Gallery of Regina, 2420 Elphinstone St.
COST: FREE
REGISTER for 15-minute sessions:
https://www.eventbrite.ca/e/699327877507?aff=oddtdtcreator
Saltzman and Bland, white settler people living in rural Saskatchewan, are concerned about the disappearance of remnants of wildland and marshes that have been turned to agricultural productivity as family farms give way to industrial farming practices in the province. These small pieces of "wasteland" are valuable habitats for many animal species.
A kitchen table is a non-intimidating place for people to share thoughts and experiences about the landscape we share. While conversations are a powerful but intangible way of reflecting on changing human use of and relationships with the land and loss of species, the artists also engage people with tangible objects and activities to consider these issues.
Repeating the motif of a buffalo silhouette used in their artworks, the artists invite gallery visitors to create a buffalo postcard, which participants can also place in the landscape. The activity uses natural cardstock and a custom stamp and is accessible to all ages and abilities. The artists instruct participants to cut the buffalo from the card, creating a window through which to view the landscape. (An accompanying adult should assist small children.) The empty outline serves as a vivid reminder of a
once-plentiful animal now mainly gone from the lands around us.
This event is presented with support from the Neil Balkwill Civic Arts Centre.
2023
Sep 23
2:00 PM — 4:00 PM
Art Gallery of Regina
2420 Elphinstone Street
Regina SK
S4T 1V4
Map
Cost: Free
Organizer
Accessibility
Wheelchair Accessible
Safe and Inclusive Space