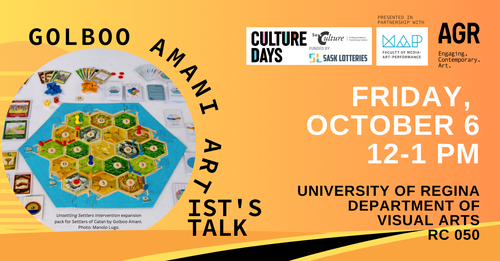 2023
Oct 06
12:00 PM — 1:00 PM
University of Regina, RC 050 (lower level in the Visual Arts Department in Riddell Centre)
3737 Wascanca Parkway
Regina SK
S4S 7J7
Treaty 4 Territory
Map
Cost: Free
Artist/Author Talk
Arts: Visual
Golboo Amani Artist talk at University of Regina
Golboo Amani Artist talk at University of Regina

DATE: Friday, October 6

TIME: 12-1 PM

LOCATION: University of Regina, RC 050, 3737 Wascanca Parkway or on Zoom

COST: FREE

Artist Golboo Amani will speak about her art practice from the perspectives of social justice, socially-engaged art and pedagogy. Amani often intervenes in systems that produce knowledge and works in forms traditionally excluded from institutional contexts, including board games. Amani views games as "ready-made" sites for informal pedagogy. In particular, her expansion pack for the popular game Settlers of Catan exposes the racism embedded in and promoted by the game. Further, Unsettling Settlers: Intervention introduces game mechanics that not only question the Capitalist and expansionist
underpinnings of Settlers of Catan but introduce positive qualities of cooperation and negotiation.

Amani will also give audiences a unique insight into the process of creating an expansion pack for a board game. Golboo invites a free exchange of ideas and conversation with students, faculty and members of the public throughout their talk. The discussion will be simultaneously translated into ASL and can be viewed on YouTube for those who are unable to travel to the University of Regina.

Golboo Amani is a Toronto-based interdisciplinary artist who creates works focused on process and research through various media, including photography, performance, space intervention, digital media and participatory practice. She received her Bachelor of Fine Arts from Emily Carr University and her Master of Visual Studies from the University of Toronto. Her work has been shown nationally and internationally in venues including the Hemispheric Institute at FOFA (Montreal), FADO Emerging
Artists Series (Toronto), TRANSMUTED International Festival of Performance Art (Mexico City) and the LIVE Biennale of Performance Art (Vancouver).

Presented in partnership with the faculty of Media, Art + Performance.
2023
Oct 06
12:00 PM — 1:00 PM
University of Regina, RC 050 (lower level in the Visual Arts Department in Riddell Centre)
3737 Wascanca Parkway
Regina SK
S4S 7J7
Map
Cost: Free
Organizer
Accessibility
Wheelchair Accessible
Deaf / Hard of Hearing
Safe and Inclusive Space