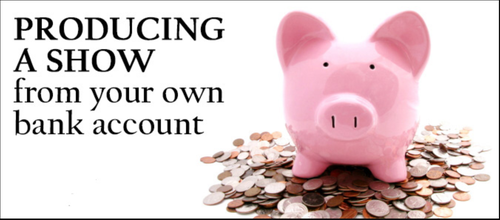 2020
Feb 03
10:00 AM — 4:00 PM
Saskatoon Workshop: Producing A Show from Your Own Bank Account
The Refinery, Saskatoon
Cost: 60.00
Saskatoon Workshop: Producing A Show from Your Own Bank Account
Saskatoon Workshop: Producing A Show from Your Own Bank Account
PRODUCING A SHOW FROM YOUR OWN BANK ACCOUNT WILL PROVIDE PARTICIPANTS MORE INFORMATION THAT THEY CAN APPLY TO THEIR OWN FINANCIAL MANAGEMENT AND INFORMATION TO ADDRESS PRODUCING A SHOW ABOUT BANK ACCOUNTS FOR THEATRE PROJECTS, ITS RISKS, COMMON MISTAKES SUCH AS SELF-EMPLOYMENT VS. PERSONAL EXPENSES, KEEPING TRACK OF PROJECT EXPENSES AND HOW TO EFFECTIVELY PRODUCE YOUR OWN INDEPENDENT SHOW.
WORKSHOP FACILITATOR, JARON FRANCIS WILL WALK YOU THROUGH THE STEPS TO PREPARE FOR YOUR OWN THEATRE SHOW WITH YOUR PERSONAL FUNDING AND HOW TO BE FINANCIALLY VIABLE WITH AN INDIE-PRODUCTION SHOW.
JARON IS AN ACTOR, A PLAYWRIGHT, THEATRE ACTIVIST, PRODUCER AND IS THE ACTING PRESIDENT OF LIVE FIVE IN SASKATOON. PREVIOUSLY AT SHAKESPEARE ON THE SASKATCHEWAN: MERRY WIVES(FORD) & (GUILDENSTERN, MARCELLUS, OSRIC, PRIEST, GRAVEDIGGER 2, PLAYER) 2018; MACBETH (ROSS) & THE COMEDY OF ERRORS (ANTIPHOLUS) 2013; AS YOU LIKE IT (ORLANDO) & HAMLET (HORATIO) 2012; MACBETH (MALCOLM) & MUCH ADO ABOUT NOTHING (CLAUDIO) 2004; MEASURE FOR MEASURE (FROTH) 2003.
JARON MOST RECENTLY APPEARED IN CHASING OUR TALES' INAUGURAL PRODUCTION, WHERE IT HURTS BY WENDY LOCKMAN. RECENT THEATRE: BUTCHER, SHEAR MADNESS(PERSEPHONE); APPLE (LIVE FIVE/ORCHARD CREATIVE); THE RIVER(CHANNEL THEATRE). OVER THE LAST 15 YEARS JARON HAS ALSO PERFORMED AT SHAKESPEARE ON THE SASKATCHEWAN, THE STATION ARTS CENTRE, THE PORT STANLEY FESTIVAL, ON THE FRINGE AND IN A PLETHORA OF INDIE PRODUCTIONS. NEXT UP, THEATRE NAUGHT'S PRODUCTION OF DEATH OF A SALESMAN AT LIVE FIVE.
THIS EVENT WILL BE IN SASKATOON. THIS WORKSHOPS HELP TO TARGET EMERGING PROFESSIONALS WHO ARE LOOKING TO SHOWCASE THEIR WORK WITH ONE OF SATP'S PROFESSIONAL ORGANIZATIONS SUCH AS FOR LIVE FIVE INC. OR AT ONE OF SASKATCHEWAN'S FRINGE EVENTS OVER THE NEXT FEW SEASONS.
DATE: FEBRUARY 3, 2020
SASKATOON LOCATION: THE REFINERY , SASKATOON
TIME: 10 AM – 4 PM
COST: $60*
NO TICKETS AVAILABLE AT THE DOOR. YOU MUST REGISTER IN ADVANCE ONLY.
*A LIGHT LUNCH WILL BE PROVIDED IN THE COST OF THE WORKSHOP. IF YOU REQUIRE SPECIFIC FOOD CONSIDERATIONS, PLEASE LET US KNOW ASAP BY EMAIL.
ALL WORKSHOP MATERIALS WILL BE PROVIDED AT THE EVENT.
Register online:
https://sasktheatreprofessionals.ca/membership-purchase/personaltaxesforartistsmemberrate-2mepn-yce94-t4c36
2020
Feb 03
10:00 AM — 4:00 PM
Saskatoon Workshop: Producing A Show from Your Own Bank Account
The Refinery, Saskatoon
Cost: 60.00
Organizer