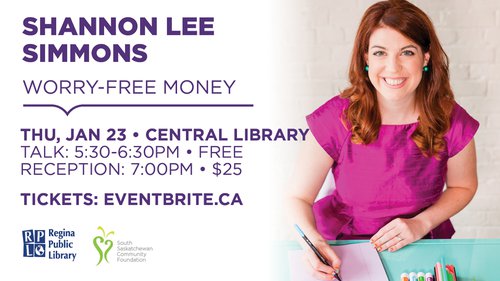 2020
Jan 23
5:30 PM — 9:00 PM
Central Library
2311 12th Ave
Regina SK
S4P 3Z5
Treaty 4 Territory
Map
Cost: FREE-$25
Talk is free, reception is $25
Buy Ticket
Artist/Author Talk
Arts: Literary
Other
Shannon Lee Simmons: Worry-Free Money
Shannon Lee Simmons speaks about money in a way that puts people at ease, makes them laugh and most of all think.

Presented by Regina Public Library and South Saskatchewan Community Foundation.

Shannon Lee Simmons' empathetic, unique and humanizing approach to personal finance has put her on the map as the go-to person to speak about money, financial literacy and empowerment. She leaves audiences laughing out loud and empowered with the tools they need to feel better about their money regardless of their ages and incomes. David Chilton, The Wealthy Barber, says that she offers a "fresh way to think about your money."

The talk will be held on the 2nd floor mezzanine at the Central Library in downtown Regina. Shannon's talk will be followed by a Q&A with Donna Ziegler, Executive Director of South Saskatchewan Community Foundation. Ticketed reception to follow at the Hotel Saskatchewan, 2125 Victoria Avenue. Appetizers included, cash bar.
Buy Ticket
2020
Jan 23
5:30 PM — 9:00 PM
Central Library
2311 12th Ave
Regina SK
S4P 3Z5
Map
Cost: FREE-$25
Talk is free, reception is $25
Organizer
Accessibility
Wheelchair Accessible
Safe and Inclusive Space