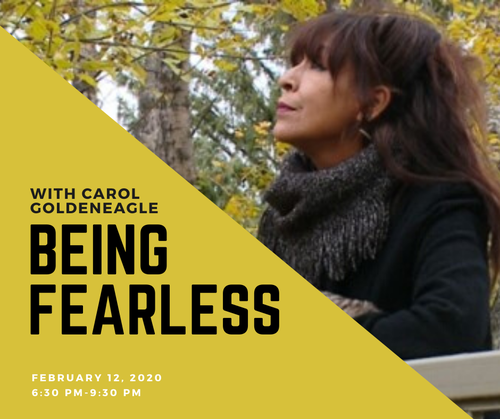 2020
Feb 12
6:30 PM — 9:00 PM
Ken Mitchell Library - SWG Offices
100 - 1150 8th Ave
Regina or Remote/Hybrid SK
Cost: free - $25
free for members
Workshop
Arts
Arts: Literary
Arts: Media
Being Fearless with Carol Rose Goldeneagle
Award-winning Saskatchewan author, Carol Rose GoldenEagle, has four titles on the market, with a fifth (and possibly sixth) to be released in 2020. Writing and storytelling has always been a part of her life - although finding a voice, for any writer, is a process that is not always as easy as it sounds.
Social norms suggest that, often, we should keep our opinions to ourselves -- that we shouldn't talk about difficult situations or that we should always be polite. Perhaps in real life, but in writing, there is no place for polite conversation.
Writers who attend this workshop will be encouraged to step out of a self-imposed comfort zone, to a place where the words written do not just to tell a story, they resonate.
Carol Rose GoldenEagle (photo) is a Saskatchewan Author of award-winning novel BEARSKIN DIARY. It was chosen as the national Aboriginal Literature Title for 2017. It was also shortlisted for 3 Saskatchewan Book Awards. The French language translation of this novel, entitled Peau D'ours won a Saskatchewan Book Award in 2019.
Her first book of poetry – entitled Hiraeth was shortlisted for a Saskatchewan Book Award in 2019. Her second novel – Bone Black– is set to be released this Fall.
Participation will be limited to 15 participants, so please register in advance:
https://www.skwriter.com/programs-and-services/workshops-registration-form
Deadline for registration is February 5/19th
For more information, contact Cat Abenstein, SWG Program Coordinator, at 306-791-7746 or
swgevents@skwriter.com
2020
Feb 12
6:30 PM — 9:00 PM
Ken Mitchell Library - SWG Offices
100 - 1150 8th Ave
Regina or Remote/Hybrid SK
Cost: free - $25
free for members
Organizer
Saskatchewan Writers' Guild
(306) 791 7740
Website
Accessibility