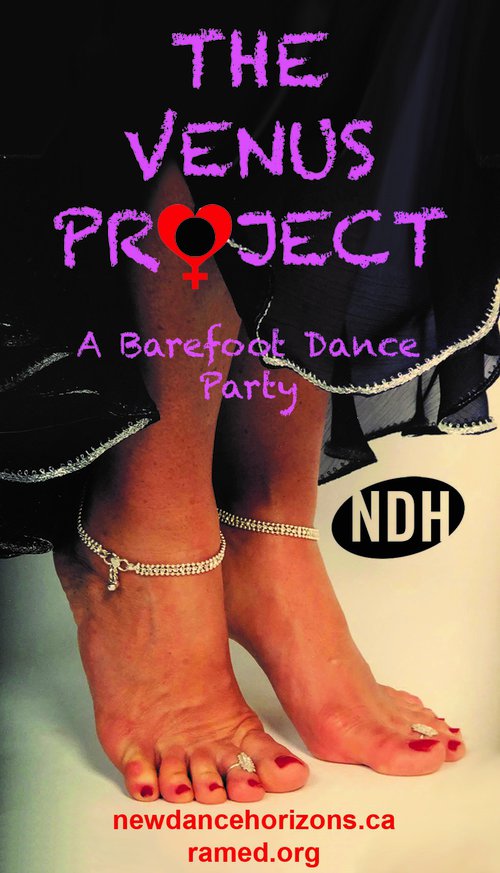 2020
Feb 14
7:30 PM — 11:59 AM
Artesian
2627 13th Ave
Regina SK
S4T 2A1
Treaty 4 Territory
Cost: $40.00
$35 for Advanced Ticket
Buy Ticket
Special Event
Arts: Dance
Multicultural
Multicultural: Other
The VENUS Project: A Barefoot Dance Party
Join us for a special Valentine's evening at ARTESIAN featuring guest belly dancer Badia Star and DJ Jon Vaughn.

Venue: ARTESIAN 2627 13th Ave.

Date: Friday, February 14th 2020

Time: 7:30 pm to Midnight

Tickets: $35.00 Advanced Ticket

$40.00 Regular Ticket

Children under 13 FREE

TICKET INCLUDES FREE:
*Special treatments for your feet!
*Belly Dance Performances by guest artist Badia Star and Regina's own RAMED
*Savoury snacks by Afghan Cuisine
*Sweets by Café Français
*All night dancing music with DJ Jon Vaughn for your dancing pleasure

CASH BAR, DOOR PRIZES and more!
Bring your own indoor slippers, thongs, sandals or dancing shoes!

TICKETS AVAILABLE:
at New Dance Horizons (2207 Harvey Street, Regina SK)
By phone 306 525-5393
Online newdancehorizons.ca

FOR GROUP TABLE RESERVATIONS
For more information please call NDH or visit our website.
Buy Ticket
2020
Feb 14
7:30 PM — 11:59 AM
Artesian
2627 13th Ave
Regina SK
S4T 2A1
Cost: $40.00
$35 for Advanced Ticket
Organizer
New Dance Horizons
(306) 525 5393
Website