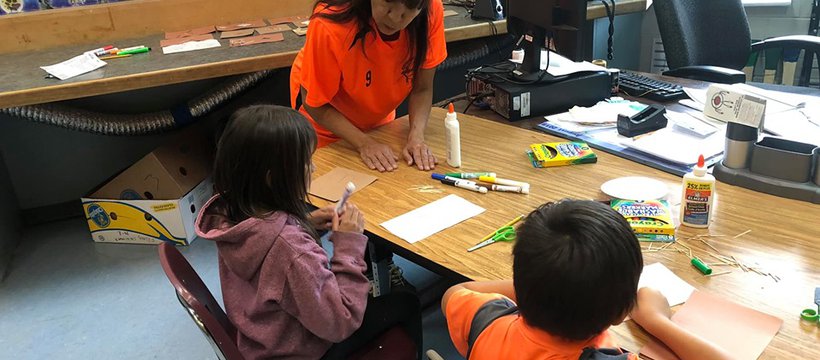 Artists Working in Northern Communities Given Trauma-Informed Training
Living in Northern Saskatchewan presents some unique challenges. One of the most challenging issues at present is responding to mental health issues, and personal traumas, faced by many youth in communities scattered throughout the North. Many Saskatchewan artists have worked in these communities, engaged youth facing trauma, and coped with any resulting emotional impacts on their own.
The Saskatchewan Cultural Exchange Society (SCES), which receives funding from Sask Lotteries, has been sending artists to northern communities for outreach programming for more than 30 years. The programs are intended to provide artistic and cultural growth for community members, and opportunities to engage with professional artists.
"Probably half of our outreach programs include going to rural and remote areas in the north," explains John Kennedy, executive director, SCES. The last couple of years, "we decided we wanted to build off our presence in the north and offer something that was more long-lasting, so the communites have more to work with when programming wraps up."
As a result, the SCES started incorporating longer stays, or "mini residencies" as Kennedy calls them, to build longer connections and skills within the community. Artists, such as musician Eliza Doyle, as well as visual and literary artist Carol Rose GoldenEagle, have started doing longer stints in northern communities over the past few years.
Shortly after the SCES started incorporating longer residencies in these areas, a pattern started to emerge. "We as artists would be travelling and working with young people in the north and would encounter situations we were not equipped to deal with," says GoldenEagle. "[Things like] having a youth confide that they had thoughts of suicide. It has happened to so many artists."
After acknowledging these occurrences, the SCES responded by creating a Trauma-Informed Program Delivery training session, called Healing Our Spirit, for artists touring in northern and rural communities. Kennedy began researching how to address the subject and incorporated culturally-sensitive guidance for working with Indigenous communities in particular, provided by the Office of the Treaty Commissioner. Eventually, the SCES also reached out to a group called the Crisis and Trauma Resource Institute based out of Winnipeg, and invited them to host their first trauma-informed workshop.
"I wanted these sessions to be led by someone who had extensive experience working with populations who have undergone crisis and trauma," Kennedy notes. "We can't expect artists to be professional problem-solvers in these kinds of circumstances, but we can try to equip them with some tools for dealing with various scenarios appropriately."
The workshop helps to better prepare artists in navigating various challenges that may be met when working with these communities and includes tips on self-care, links to external resources, and connections to professionals who may be better trained in responding to trauma and crisis.
The SCES's first Trauma-Informed Program Delivery Workshop hosted 15 participants. "The attendees expressed gratitude for the training and provided positive feedback," says Kennedy. And working from the positive feedback, the SCES is currently considering ways to build an ongoing series that will cover a wide variety of trauma-informed topics. "The idea is to build up a network of artists who have experience working with these communities."
Kennedy believes the workshops will allow artists to deliver their programs in a more positive way moving forward, resulting in a longer lasting and stronger community connection. "Having an impactful arts presence offers the community the ability to define themselves while bringing people together," he says. "A vibrant arts scene is absolutely crucial to a community's growth, no matter their size or location."