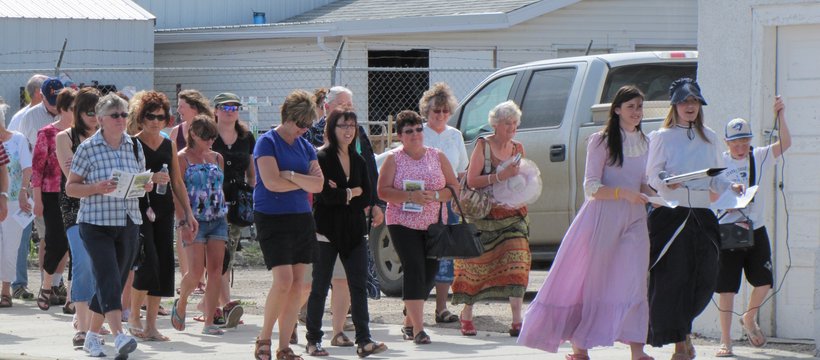 Celebrating Culture in Kindersley
Kindersley is taking the lead when it comes to showing off their culture. The town of about 4,400 residents is home to a diverse and talented group of performers, arts and culture supporters, and educators who are actively producing, promoting, and engaging in culture.

"Kindersley is and has always been known for its progressive, youthful, and energetic residents," says Wayne Gibson, culture and youth coordinator, Town of Kindersley. "While strong support for sports and recreation has always been evident, the very active arts and culture community has often received a less prominent spotlight."

In 2009, Kindersley's town council completed its five-year strategic plan, which included a priority to promote and maintain an "active and vibrant arts, culture, and heritage sector" in an effort to highlight the importance of arts and culture to the health and vitality of a community. To help the community achieve this goal, town council established the Arts, Culture, and Heritage Advisory Committee and hired Gibson in the new position of Culture and Youth Coordinator for the purposes of promoting arts, culture, and youth engagement in Kindersley.

Over the past year, major accomplishments were achieved in bringing arts and culture to the forefront of resident's minds. A logo and brand – "Culture Kindersley" - representing the Arts, Culture, and Heritage Advisory Committee was created to help promote cultural organizations and events; a full-coloured glossy brochure promoting area events was printed; and member cultural organizations were allotted space on the town's newly enhanced official website.

With help from these new initiatives, 2010 turned out to be a busy and productive year for Kindersley's arts and culture scene.

Unique events, coinciding with Kindersley's 100th birthday, were held around the community. In July, the Town hosted a guided Heritage Walking Tour of the community led by youth dressed in period costume. The historical journey through the town's downtown has since been published into a book so that others can enjoy self-guided tours.

In partnership with a local film company, Kindersley also hosted its first ever film festival in 2010. According to Gibson, the three-day event was a success and will likely become an annual event.

Kindersley also participated in the first ever Culture Days in Saskatchewan, held in September 2010. The celebration included a number of exciting events celebrating the community's heritage, culture, and diversity. "A Taste of Ethnic Cuisine, which showcased food prepared by Kindersley's new international residents, was extremely well-received," said Gibson. The event attracted approximately 150 people in just less than one hour to sample food from across the globe.

Kindersley also showed their support of Culture Days by bringing back their heritage walking tours, as well as staging a one-night mini film festival. The festivities concluded with the Kindersley Culture Crawl during which visual and performing artists were dispersed throughout the community to perform and showcase their work.

For 2011, Gibson said he wants to build on the success achieved in 2010, which includes bolstering the promotion of "Culture Kindersley," increasing Culture Days celebrations, and seeing the expansion of the international resident programming.

"I think the overall theme of growth and progress throughout Kindersley's history is evident in the cultural ideas being developed," he says. "We continue to look to the future with a focus on the best interests of our community, just as Kindersley's first pioneers did 100 years ago."

He adds that "A healthy and vibrant community is one that embraces all aspects of life and brings people with common interests together to share them."

To find out more about arts and culture in Kindersley, please visit: www.kindersley.ca.