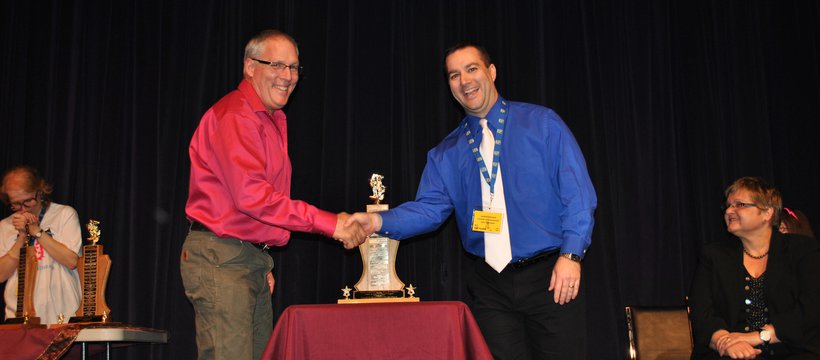 Competition unites community theatre in Saskatchewan
In this issue

Engage - Volume 4, Issue 2, Winter 2014
Who says culture isn't competitive? Every year, several theatre groups compete the top prize at Theatre Saskatchewan's TheatreOne competition. While everyone wants to win, the positive experience and networking is the true prize.

The TheatreOne Competition, which features one act plays, began in 1988 with the following year being the first as a competitive event. Over the subsequent years, the event has grown in size with now nine different groups from across Saskatchewan performing over three nights to an audience. Each year, the competition also travels to a new town or city in the province.

"It's really fun, whether you come out as an audience member or you are participating," says Melissa Biro, Theatre Saskatchewan's interim executive director. "It's just fun!"

The competition brings together a group of people who love theatre and who want to engage with others and share their passion with everyone in their community, so much so that they are willing to give up much of their free time to make theatre come alive in Saskatchewan.

In 2013, TheatreOne was held at the Regina Performing Arts Centre and Crocus 80 of Weyburn was the big winner, taking home the shumiatcher Trophy for Best Play, the Florence Eberle memorial Trophy for Best Director, and the Janet Lowndes Trophy for Acting.

Biro explains that the competition is a great learning experience for theatre groups since they have to perform outside their regular community to a new audience who may have a different reaction to their material. Every year there is a good mix of returning and new groups, so they also have an opportunity to learn from each other.

"There is a wide range of emotions experienced throughout the weekend," says Biro. "Everything is done in a positive way. Everyone works together to improve."

An apprenticeship program is also offered through the competition. Ten individuals from ten theatre groups have the chance to attend all the adjudications and workshops during TheatreOne. It is also a great networking opportunity.

Volunteers are also vital to TheatreOne's success, according to Biro. They work like "crazy" in the months leading up to the festival to ensure its success.

"If anything, I've discovered it's a testament to the love and passion of volunteering and theatre in this province," adds Biro.