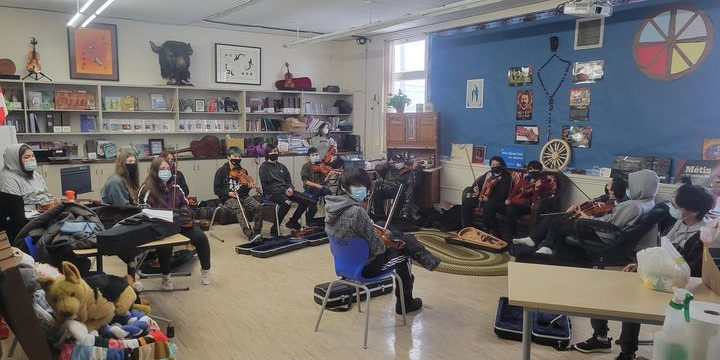 Dream Brokers: Creative programs popular for handling COVID
Students from two Saskatoon schools are getting opportunities to participate in several arts programs while connecting to their culture and history thanks to Dream Brokers and support from Creative Kids.
Dream Broker Laura Dyck from St. Frances Cree Bilingual School and St. Michael Community School in Saskatoon, says, "Most of our students couldn't participate in any activities during COVID due to programs being paused or shut down. It was important to us to offer a variety of programming to spark our students' interests and keep them connected."
While the students were engaged in poetry, journaling, drumming, beading and fiddle playing, they were also connected to the traditions and cultural heritage behind these practices. Dyck says that some students connected to their Métis heritage, roots and background during the fiddle classes. In the poetry and drum programs, facilitated by Marc Okihcihitaw, a member of the drum group Youngscouts, the students learned about the history of the Plains Cree hand drum and the Round Dance.
"The students were able to identify the parts of the drum and their meaning. Marc talked about how songs are composed and the similarities between songmaking and poetry. In the writing portion of the class, they blended the teachings of the drum with journaling and creative writing."
Dyck notes that the students all enjoyed the journaling portion of the drum program. "The entries we saw were very powerful. Our students are dealing with a lot of emotions around the pandemic and having the journal program teach them about using journaling as a positive outlet was very valuable."
Students in the beading class, facilitated by Desiree MacAuley, were given beading kits to work on their own beading projects. Not only did the students learn from the adult facilitator, they also learned beading from a Grade 8 student from St. Frances School.
"Nadine is a talented young beader who makes beautiful earrings and pins," Dyck says of the young facilitator. "Over the course of the beading program, Nadine was able to develop her leadership skills and build her confidence in working with youth. She was so great at sharing her knowledge. It was awesome to see her as a role model for the younger students."
She adds that, "We were pleased to have the support of Creative Kids for these three programs. They brought a joy and positivity to our students that was greatly needed during the pandemic ."
The Dream Broker Program started as an initiative by Sask Sport in partnership with the Regina Public and Catholic School Boards. Over the years, SaskCulture has partnered with Sask Sport and the Saskatchewan Parks Recreation Association to support the program, and ensure all children and youth get the chance to participate in sports, culture and recreational opportunities.