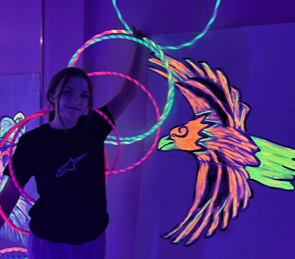 Increasing equity and belonging for youth: Teaching hoop dancing helps build cultural connections
Kelleen Blouin, who also goes by the name Grandmother Willow, knew that her journey of learning her Métis roots was one that had to be shared with younger generations. Since her grandmother had attended residential school as a child, Blouin developed a strong commitment to sharing teachings on Truth and Reconciliation.
"Learning and sharing about culture is part of the appreciation and respect," she says. With lineage to the Cumberland House region in Treaty 5 Territory, Blouin's children began asking questions surrounding their heritage. Although much of her culture was kept quiet from previous generations, Blouin did recall some medicine teachings and stories from the trapline that helped her to dive deeper into her history.
During her learning journey, Blouin says, she was "called to the drum." Blouin felt that the hoop dance was a great tool for sharing cultural history. When a close friend retired from teaching hoop dance classes, she took over, teaching the Hoop Troupe classes for years in her surrounding community. She just recently wrapped up a seven-month course in Creighton, SK with Creighton Recreation, Culture, and Tourism. This course received funding from the Northern Youth Cultural Fund, administered through the Northern District for Sport, Culture and Recreation, in partnership with SaskCulture.
The Hoop Troupe classes for beginner and intermediate learners are based around the medicine wheel and the Seven Sacred Teachings of Love, Courage, Wisdom, Truth, Honesty, Humility, and Respect. "These teachings tell us that it is the children who will bring forward the sacred teachings and I see that every day in the work that I do," she says.
Blouin has seen children come into the class with their heads down and eyes to the ground. "Self-esteem is a big component in my teachings," she says. "I am committed to seeing children leave the classes with their heads held high." She adds that, she encourages students to leave their impact on the world.
Through her classes, she teaches students that the hoops are a reflection of themselves that tell their own personal story. She encourages learners to decorate their own hoops to reflect who they are as a person. Adding this personal element has also encouraged students to find their confidence and build their individuality.
Creighton's Recreation Director Lindsay Shirran, says, "Kelleen is an exceptional leader who excels in guiding the Hoop Troupe. The children are all very proud of learning new skills through dance and their pride radiates through their smiling faces."
"I owe everything to my grandmother, who encouraged me to follow my heart in these teachings," Blouin shares. She has high hopes that her work bridges cultural connection and understanding, as her students are Indigenous and non-Indigenous. She feels it is important for everyone to learn these teachings, because Indigenous culture is all around us.