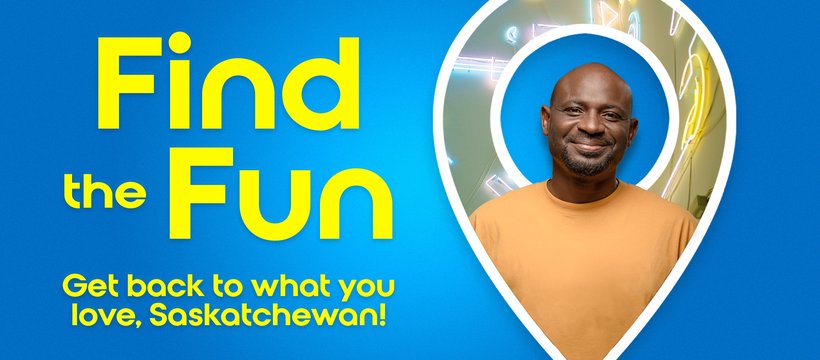 Increasing participation in cultural experiences post-pandemic: Encouraging folks to "Find the Fun" at in-person cultural experiences
After three years of a pandemic, residents needed a reminder that it was time to get back to the arts, culture and heritage activities they enjoy. A provincial promotional campaign, which ran from May-October 2022, was designed to grab people's attention to "Find the Fun" by returning to in-person cultural experiences in their communities.
It is no secret that the pandemic slowed in-person arts, heritage and cultural programming to a standstill, causing the postponement and cancellation of hundreds of festivals, theatre performances, lessons and more. Many artists and cultural leaders trying to make a living through these pursuits were forced to go on pause, or work online. When restrictions were finally lifted, artists and cultural organizations expressed concern about getting people back to in-person activities and events.
SaskCulture, along with its partners SK Arts, Creative Saskatchewan and the Ministry of Parks, Culture and Sport, recognized the importance of reminding residents that artists and cultural workers needed their support. They came together to develop the #FindtheFunSK campaign to support the sector as it bounced back from the impact of COVID.
"Find the Fun was designed as a reminder to Saskatchewan residents, that the activities, such as live music, theatre and art exhibits, were once again open and welcoming everyone back," says Dean Kush, CEO, SaskCulture. "People had changed over the course of COVID, and changed their routines. The campaign was an opportunity to remind them of the wealth of arts, heritage and cultural experiences they were missing."
Besides social media posts and signage at bus stops and in bathroom stalls around the province, the #FindtheFunSK campaign directed people, through a QR Code, to cultural events around the province through Tourism Saskatchewan and the online Cultural Events Calendar at saskculture.ca/events.
During the campaign, the online Cultural Events Calendar averaged 200 or more event searches a month, between July and October, 2022. Influencers, such as Drag Artist Chelazon Leroux and Peace Akintade, a Saskatoon poet, shared the Find the Fun SK messages with their TikTok accounts reaching close to a million views combined. The Find the Fun SK website had over 7,200 visits. In total, the campaign had over 6.5 million social impressions, reaching an estimated 32% of Saskatchewan residents.
While some cultural groups are still struggling to bring audiences and participants back to re-engage and recruit volunteers, focused efforts continue to encourage participation and engagement throughout the year.