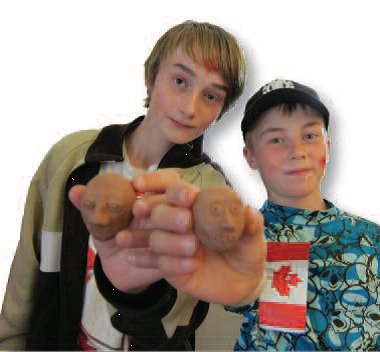 Inside the Culture Days movement
The Culture Days Movement in Saskatchewan continued on an upswing in 2011 with the expansion of SaskCulture's commitment to the Culture Days Animateur program, from one artist in 2010 to four artists this year. The reach of the Artist Animateur program seems to be nearly province-wide with my counterparts, Darlene Williams and Mindy Yan Miller meeting with communities in the north and central areas, and Johanna Bundon and myself connecting with people in the south.

Since early June, we have been actively engaging with communities, presenting workshops and promoting involvement by communities, cultural organizations and individuals in Culture Days. We seem be having a significant impact on both an increase in the number of events taking place in the province during Culture Days, but also in awakening the "artist" in many individuals throughout the province.

Culture Days is a citizen-driven program, and in my journeys I found many people engaged in arts and culture, ready to get involved. For instance, the Assiniboia Arts Council is in its 30th year of delivering arts programming, and they were keen to participate in Culture Days as part of their anniversary celebrations. Plans were made for a writing workshop with Assiniboia writers which would culminate with a group reading during Culture Days.

Further north, Animateur Darlene Williams, who has background in dance and choreography, said that "through the community workshop meetings, I created a format for participants to see how what they do on a daily basis impacts their communities on a much broader scale." Both Darlene and visual artist Mindy Yan Miller have held several workshops. Mindy was able to travel with Aboriginal artist Audrey Fineday to local reserves where they engaged people in making doll-sized moccasins and clothing, and is working with North Battleford to set up an Artist's Salon. Johanna has been working on a sound recording project and connecting with the Francophone network interested in Culture Days.

Myself, I have been busy engaging people in a project called The Invisible Library, encouraging people I meet to create titles of imaginary books they would like to read. People who attended various events throughout the spring and summer have contributed to this process, as well as expressing their inner poet.

Along with Regina comic artist, Jonah McFadzean, I have collaborated in creating "Comics on the Spot", portraying culture milieu of such events as the Windscape Kite Festival, Festival of Words and the Wood Mountain Folk Festival. We are also collaborating on a series of "Poetry Comics" which will be part of the Culture Days collection.

For the Cannington Manor Heritage Park Fair, I wrote and performed poems written about real people who were settlers in the area. Afterward many people shared stories that had been in their families for generations and I encouraged them to write them down and share them with others and make them available to the local museum. Many said they would.

At the Regina Folk Festival, I had the wonderful experience of reading one of my poems to Fred Penner who said something that has stuck with me in my Animateur work. He said, "Never underestimate your ability as an artist to make a difference.

" I have given writing workshops at the South Saskatchewan Independent Living Council where I have seen breakthroughs where participants have seen themselves on the page for the first time. The experience has been as transformative for me as it has for the people in the workshop.

The dialogue I have had with community leaders and workshop participants has increased my admiration for the wonderful work that happens in Saskatchewan villages, towns and cities to ensure that participation in arts and culture is essential to their way of life.

SaskCulture's development of the Animateur program is undoubtedly contributing to increased involvement in Culture Days in Saskatchewan, which means more people will be connecting to their own creativity through engagement in cultural and artistic pursuits. From my perspective Saskatchewan communities are ready willing and able to embrace the Culture Days Movement.