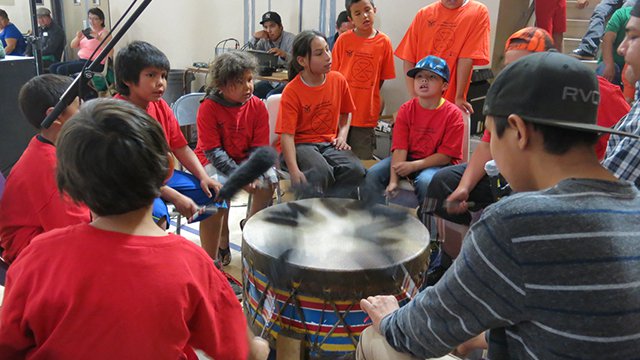 Learning Language from Each Other
In this issue

Engage - Volume 6, Issue 1, Fall/Winter 2015
Every year, the Saskatoon Tribal Council (STC) hosts the Indigenous Language and Culture Celebration, where over 500 elementary students from Saskatoon and surrounding reserves take part in a variety of cultural and language activities.
The annual one-day event is held at a different school each year and is made possible through partnerships with the Saskatoon Public schools and Greater Catholic schools (along with some key funding provided SaskCulture's Aboriginal Arts and Culture Leadership grant). This past year's event was held at City Park Collegiate on May 22, 2015.
"Each celebration has a different theme. Last year's theme was 'Honouring our elders', so we brought in extra elders from the communities," says Albert Scott, Language and Culture Coordinator, STC.
"[This program] ensures that the languages stay alive and ensuring that all of our youth have the opportunity to speak and learn their language."
Scott works with three language groups, Dakota, Cree and Sauteaux, which also represent the seven bands of STC. These languages (including Michif) are all essential parts of the Indigenous Language and Culture Celebration every year.
For a day like this, a lot of planning goes into it, says Scott, who explains what the day entails.
"What usually happens, is we get together as a partnership. Last year, we brought in the language instructors, then from there, we planned the exact details of the things we need to do," he says.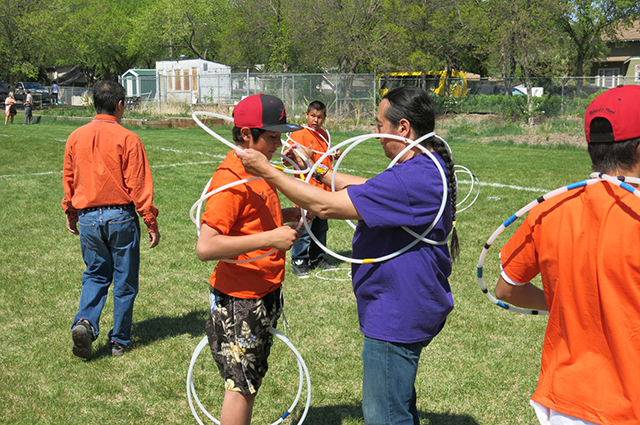 They start at about 9:30 am with registration, and at 10:00 am, the drum group is brought in. There is also a grand entry celebration, and the dignitaries speak: This past year STC Chief Felix Thomas, and Directors from the Saskatoon Public and Greater Catholic schools were in attendance.
From there, the group breaks into workshops - last year, there was 25 mini-workshops at 30 minutes long each. All the groups of children rotated through three or four workshops in the morning.
The celebration is unique in how organizers mix up the students in different language workshops in an effort to make them learn from other culture and language groups.
"If you come from a Sauteux band, we would channel you to a Cree or Metis workshop. If you came from a Cree band, we would channel your children to exposed with Sauteaux culture and language as well as Metis and so on.This is done respectfully so that it is acceptable that there are other cultures and languages around. From there we gather at noon. Last year, we had Philip Dallas Boyer come play fiddle music, then we had a mini-play and in the afternoons. We had various school perform on stage in their own language, whether in Cree, Sauteaux or Michif," explains Scott.
Darryl Isbister, coordinator, First Nations, Inuit and Metis education, Saskatoon Public School Board, sits on the planning committee and speaks about the value of such partnerships.
In the division, there's a Cree language and culture program operating from one of our schools, we also have a Michif language and culture program taking place in a another school, he explains. "It ensures that the languages stay alive and ensuring that all of our youth have the opportunity to speak and learn their language. That's one of the crucial aspects to helping our students understand who they are and that they belong in this system."
Scott also adds that the partners do contribute; however, they still have limited funds. Because of this, they applied for SaskCulture funding, which has provided some much needed benefits.
"There's all kinds of cultural messages and that's what we're trying to instill and teach in our children."
"The SaskCulture grant is used to bring in our traditional cultural experts, to come and show and tell the children how important our language and culture is. Some of the things they discuss include plants and the importance of mother earth. They talk about values like respect, honesty, humility - all kinds of cultural ideas you can find at the First Nations level," says Scott.
As for the overall importance of language and culture, Scott says that long before Europeans arrived, First Nations had their own education system, which he says the Saskatoon Tribal Council is now trying to restore.
"We're developing a cultural curriculum guide, based on our Indigenous world view. As a language and cultural coordinator, I always felt we had our own educational system. We had our own way of educating our students before Christoper Columbus came," says Scott.
"In the cultural curriculum that we're developing, it's called the Creation Wheel, where there's 48 items in that wheel. There is a purpose and a reason why the Creator made these things," adds Scott. "There's all kinds of cultural messages and that's what we're trying to instill and teach in our children. We're reintroducing them into the educational system."
Next year's Indigenous Language and Culture Celebration will take place at E.D. Feehan Catholic High school. (For more information you can contact Albert Scott at 1-306-659-2561).