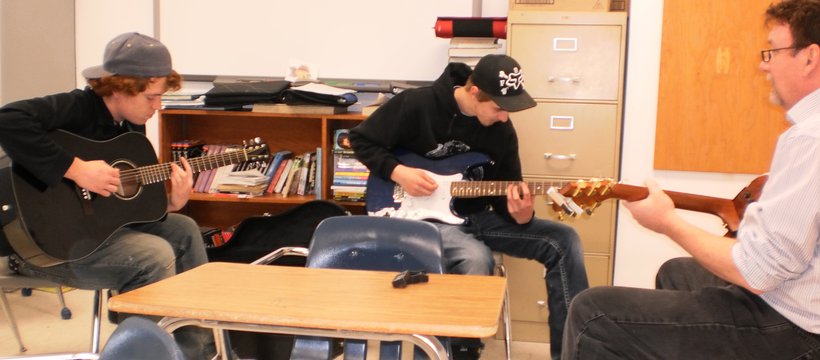 Music Program Promotes Healing Through the Arts
In this issue

Engage- Volume 6, Issue 2, Spring 2016
It is said that music speaks where words fail. So, when students at Turtleford Transitional School were shown different musical techniques, they also learned new ways to communicate, express themselves and heal.
In 2015, Turtleford Transition School embarked on an ArtsSmarts program that brought music into the classroom. Students participated in a variety of musical activities, including drum circles, as well as discussing music and how they related to it. The program centered on student-driven musical projects. Some of the students made musical movies, some played guitar, or did musical slide presentations of pictures from their lives. One student even wrote a song and recorded it.
"The concept for the project revolved around music's ability to heal," explains Jay Kimball, program consultant, Saskatchewan Arts Board."Music allowed students to connect with each other, and opened up creative avenues of self-expression. It was also recognized that music was more important to some of the school's students than athletics, so the program was a good fit."
Fred Hegelton, former principal, Turtleford Transition School, says that, "Typically our students struggle in regular classrooms for various reasons. Our main goal is to help them achieve high school graduation."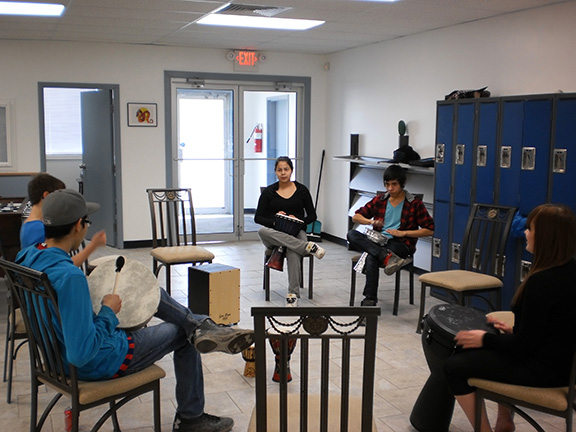 The project evolved from a collaboration between secondary Music Teacher Kevin Martin and Music Therapist and Singer/Songwriter Carmen Loncar. "When we heard Carmen was available to do an ArtsSmarts music program, we jumped at the opportunity," he adds. "She'd visited our school earlier, and performed, so a connection had already been made."
Kevin Martin, music teacher, Turtleford Transition School, explains that, "The goal of the project was to engage students and keep them coming back to school through positive experiences.
"Creativity and student-directed learning are the main benefits when music is involved," he adds. "Working with music is all about looking inside yourself. The students become engaged with something that has meaning to them, and they show up for school every day."
Hegelton goes on to say, "The program was highly successful. I was worried that students would be reluctant to come out of their shells, but Carmen's respectful approach led to enthusiastic responses. Carmen and Kevin were able to tap into student's love of music and also convince them they could create it for themselves."
The project, made possible by ArtSmarts Saskatchewan, funding from the Saskatchewan Arts Board, SaskCulture and Saskatchewan Lotteries, wrapped up in April, with a celebration of music, where the students presented their projects, songs, and slideshows.
Martin notes that, the arts are a great way to inspire students. It's important to give students opportunities to be creative, he says. "If you can get students to think 'I can do this', you've helped them succeed."
The ArtsSmarts Saskatchewan program is now called Artists in Schools and is still funded through a partnership of Saskatchewan Arts Board, SaskCulture and the Saskatchewan Ministry of Education.