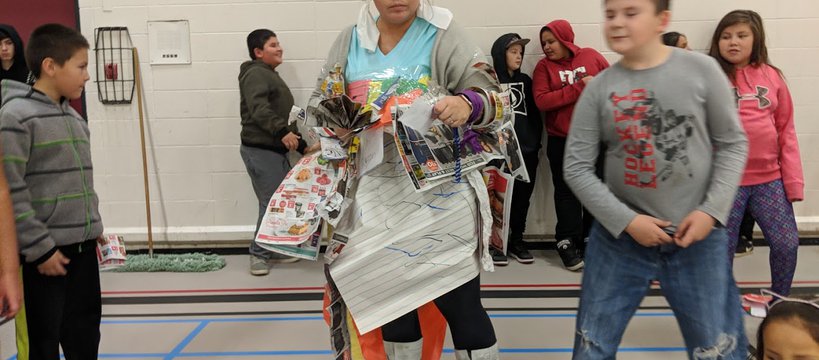 Nikaniwin: Youth Leaders Bring Arts and Culture Opportunity to Community
When students from the Valley View Community School in Beauval, Northern Saskatchewan noticed that most youth in the community only engage in sports activities, they decided to make plans to address the need to have more cultural opportunities.
"Our youth were saying that they wanted to participate in arts and cultural activities in a leadership role. They wanted to bring arts into the community so they can engage with their families and friends," says Gail Gardiner, leader coordinator at the school.
According to Gardiner, the idea to have a youth leadership group started after she introduced the youth development model to the school and community. "People were foreign to the idea at first, they didn't realize it's their (youth) voice. Because people usually have this traditional way of thinking that adults know best, adults can run the program. They don't realize that the youth know what they want and what is needed."
She says the model and the leadership program at the school is helping the community see what the youth can do, and they are now more included in many activities happening in the community.
The students involved with this project were part of the Nikaniwin group at the school, eight students from grade 12 and seven from grade 5. Nikaniwin, in Cree, means "leader."
The events, which include three camp programs, were held from June to October. Summer Art Camps were held first, engaging the students in activities such as learning and improving their beading skills, visual painting and wood work, carving etc. The second camp was a Peers Helping Peers Workshop. Held at the Sandy Beach Resort Camp grounds, the camp got students involved in traditional arts and cultural practices by using the land resources to develop the art. The last camp was an Art Workshop Tour; artists were brought into the community to engage the youth in music, writing, drama, visual arts and dance.
Gardiner says that funding from the Cameco Creative Kids Northern Cultural Fund (CCKNCF) boosted the school's options in terms of getting the resources to make these activities more engaging.
"A lot of the times, we would have to fundraise or beg people. So this time, with the fund, we could go that extra mile to get things done, like paying honorariums, getting people to come. It gave us an extra boost to pay for extra resources," she says.