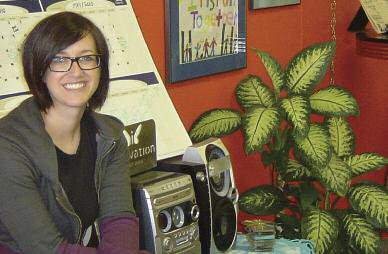 Q & A with Anika Henderson - Cultural Leader in Saskatchewan
What cultural projects are you working on presently or have just completed?
Of the cultural projects I have worked on, my work at the Newcomer Welcome Centre (NWC) is the most exciting and is likely to have the most lasting impact. The NWC opened in September 2008 after we received a start-up grant through the Community Initiatives Fund. The NWC provides settlement and integration services in a safe and welcoming environment to newcomers to Southwest Saskatchewan. Our goal is to act as a gateway to equitable, respectful and welcoming communities where all members are empowered to actively participate and contribute.
Is there a particular accomplishment or contribution to cultural development in Saskatchewan you are most proud of, and why?
I'm most proud of the work done by our team at the NWC to assist new immigrants and to establish a model for settlement and integration service delivery here in Saskatchewan. The NWC in Swift Current was the first of its kind in the province. It is a very special place built on friendship, trust, equity and respect for cultural and linguistic diversity.
What area of your work do you wish you could do all over again? What would you change?
There's not much I would do over again. I am thrilled with the success of the NWC and I am so excited about the increasing diversity that we are seeing in Southwest Saskatchewan. Newcomers who are choosing to make Southwest Saskatchewan their home are making our part of the world such a richer, more dynamic place to live and work.
What advice would you give to future cultural leaders that want to follow in your footsteps?
I would have two bits of advice to share with others who are interested in this kind of work. First, I would encourage them to get involved through volunteerism. In 2005, I completed a six month unpaid human rights internship in Australia and I credit this invaluable experience with opening up the many opportunities that have presented themselves to me since that time. Second, I would encourage others to dream big and to worry about the details later! I believe that if you are really passionate about something and you have a vision, anything is possible.
What is your favorite cultural activity and why?
I would have to say that my favourite cultural activity involves meeting and getting to know people from culturally and linguistically diverse backgrounds. My job offers me this opportunity on a daily basis – it's like having the opportunity to travel without ever leaving your hometown! I also love to travel and I love languages and dance (although I've got no real skills to speak of in either of the latter two areas).
If you were able to spend a day with any Saskatchewan cultural figure, current or historic, who would it be and what would you ask?
Wow… there are so many! I would love to spend a day with Joni Mitchell or Buffy Saint-Marie or Big Bear. I would probably ask them all of the same questions you've just asked me!
What do you think is the "best place to be" in Saskatchewan?
Well Southwest Saskatchewan of course! After spending about 11 years out of province and out of country, I finally came home to Swift Current in 2007 and have never looked back. Although my outside experiences were absolutely invaluable, I just love the prairies and I am so happy to be back in the Southwest.