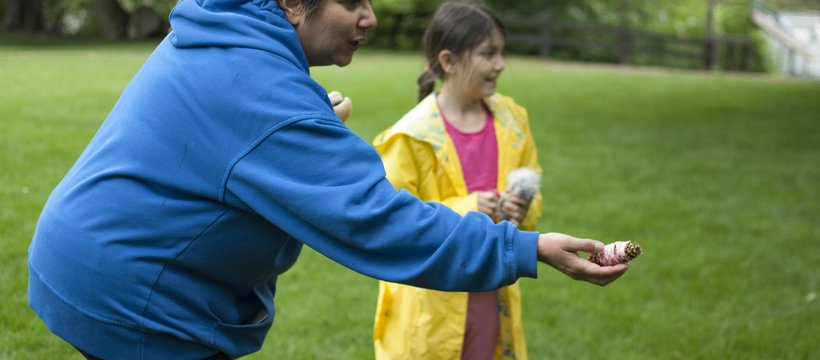 Raising the Bar: Exploring Indigenous culture through game creation
In this issue

Engage - Volume 5, Issue 1, Fall 2014
Culture, games and sport all play an important role in a community, and a recent ArtsSmarts initiative set out to explore that connection through art and collaborative learning.
The ArtsSmarts Raising the Bar program provided opportunities for students from Prairie Sky School (PSS) to celebrate the North American Indigenous Games (NAIG) in 2014 by exploring Indigenous culture and sports through the creation of games.
Saskatchewan artist Laura Hale facilitated the project, and says, "The project not only explored the NAIG, but also traditional Indigenous culture, games and sport, the role games played in a community, the kinds of games and the objects that were used to play those games." she adds, "For the project, we created our own games, then designed and built the objects and equipment needed to play our games. We used natural materials as much as possible to create our objects."
Along with exploring traditional Indigenous culture through game creation, students also had several other opportunities for learning outside of the school environment including a field trip to collect natural materials, a visit to the Royal Saskatchewan Museum to explore First Nations tools and toys, an archery lesson and a chance to play and learn about lacrosse.
Corry Moriarty, principal, PSS, says, "Our students said that the best part of the project was learning archery and using new and different art materials. They said it was fun making the games, working with Laura, and playing everyone else's games." According to the students the most challenging part was trying to decide what to create and not changing their minds. Finding the right materials was also challenging and a lot of experimentation was required.
The project culminated in a big celebration where PSS hosted their own Prairie Sky School Indigenous Games on Willow Island in Wascana Park in Regina.
Family, friends and the community were invited to join the celebration. The children hosted their game, explaining the rules and inviting people to play. Ceremonial feathers, made from paper, welcomed guests and canopied the entrance to the games. Each student also made a badge from felt with their game logo on it that became part of the larger Games logo. The opening and closing ceremonies (with song and dance by the kids) including a ceremonial lighting of a fire to indicate the start of the games. Hale adds, "seeing it all come together was really special. The kids did a great job hosting their games for all of our guests, and we were really proud to share what we did together with all of our families and friends."
Moriarty says that the project was a valuable experience for the teachers involved as well. "What we as teachers came to understand was that an Indigenous lens is accessible to all of us regardless of ethnic origin. Embracing this kind of exploration is entirely possible when elders support our intentions and help us overcome some of the fear around the divide between First Nations and Métis people, and non-Indigenous people. Authentic Treaty education and engaging in traditional knowledge takes courage and humility."
ArtsSmarts Saskatchewan is supported by Saskatchewan Arts Board, Saskatchewan Ministry of education, and SaskCulture, with funding from the Saskatchewan Lotteries Trust Fund for Sport, Culture and Recreation.

Check out the video below to see the students of Prarie Sky School perform during the opening ceremony and some of the games in action!