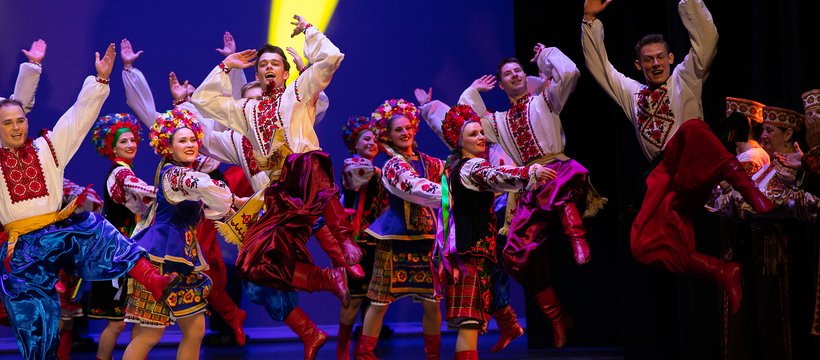 Volunteerism a Strong Connector in the Ukrainian Community
In this issue

Engage - Volume 13, Issue 2, Spring 2023
For the Ukrainian Canadian Congress - Saskatoon Branch, much like so many cultural organizations throughout Saskatchewan, volunteers are the reason the organization exists, and why the community remains connected.
"Volunteers are an integral part of our organization and without them, we wouldn't be able to do everything we do," says Megan Worobetz, vice president, and a volunteer board member, Ukrainian Canadian Congress - Saskatoon Branch (Saskatoon UCC) since 2018.
New to the Saskatoon UCC Board, Karen Pidskalny says the Ukrainian communities throughout the world are built in a foundation of volunteerism. "It's about building community and staying connected within your community." The Saskatoon UCC is a federation of organizations within Saskatoon that assists Saskatoon's Ukrainian community in maintaining, developing and sharing its Ukrainian Canadian identity and aspirations. They are a member of the provincial and national UCC.
"We are the voice of the Ukrainian community in Saskatoon. UCC Saskatchewan brings all the Ukrainian organizations in the province together in one body as an umbrella organization. That way everyone can hear what everyone else is doing. And I can tell you in the Ukrainian community, everybody is doing something," laughs Pat Tymchatyn, now Saskatoon UCC President and long-time board member.
Normally, Saskatoon UCC's activities consist of the yearly Ukrainian Day in the Park in August, hosting events and doing the public relations for performers and speakers from outside of Saskatoon; cultural lessons and activities (right now bandura lessons are taking place); as well as, coordinating the yearly volunteer recognition event in Saskatoon. However, this year due to the invasion of Ukraine, its' volunteer workload increased significantly with rallies, fundraising events, as well as, setting up a furniture depot for displaced Ukrainians.
The number of volunteers has also increased so much this year. Tymchatyn isn't even sure how many volunteers there are now, as hundreds of people have turned out to help depending on the event or activity. The Board of Directors still remains the core group of volunteers, and according to Tymchatyn, that group is dedicated.
Some of the results of their volunteer efforts this year were not surprising given their ability to unite the Ukrainian community. The United for Ukraine concert, held on November 12, 2022, raised $58,000 for the cause. Everyone involved in organizing the event and all the performers volunteered their time. It was a big member collaboration, she says.
This past year, Pidskalny spearheaded the Sunflower Project which saw sunflower seeds, donated by early Garden Centre, sold in Co-op stores across Saskatoon, raising $11,000.
All three women, Worobetz, Pidskalyny and Tymchatyn, are dedicated volunteers who have been volunteering within the Ukrainian community for years. All agree that volunteering their time has given them friendships and opportunities they wouldn't have had otherwise, and the rewards outweigh the effort.
Pidskalny says volunteers often don't realize their impact. "We don't realize volunteering is our contribution to humanity. When we talk about how important it is to volunteer, we never talk about the values you gain from volunteering. You gain skills. You learn to budget, you learn how to become leader, you learn how to manage people and more."
Worobetz says, she's learned a lot about community-building and volunteer management through her involvement and has this tip for other organizations, "It's important to recognize and build on the individual strengths that your volunteers bring to the table and it's important to recognize your volunteers."
Besides the benefits, Pidskalny says, one thing is for sure, the Ukrainian community always pulls together. There's no problem finding volunteers, she says, "I think that's the way we raise our children and the way we've been raised is to participate in the community."
Saskatoon UCC received project support through the Multicultural Initiatives Fund, funded by Sask Lotteries Trust Fund for Sport, Culture and Recreation.