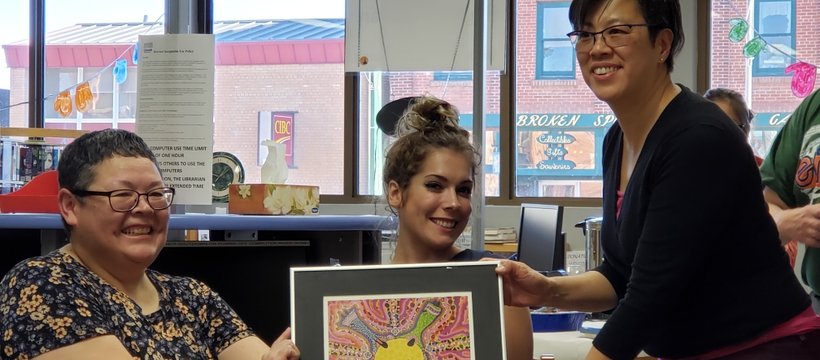 Volunteers Key to 20-Year Old Indigenous Storytelling Series
In this issue

Engage - Volume 13, Issue 2, Spring 2023
As with many successful, long-running programs the dedicated volunteers, who support the Annual Saskatchewan Aboriginal Storytellers series, fill important roles and provide the heart, soul and energy needed for the program to thrive over the years.
Throughout its 20 years, the Saskatchewan Aboriginal Storytellers (SAS) series, hosted by the Saskatchewan Library Services for Saskatchewan Aboriginal Peoples (LSSAP), has seen many ups and downs, including the adjustment to delivering the program online throughout the pandemic years. The series, currently celebrating 20 years, was formed out of a volunteer committee within LSSAP and was intended to improve the accessibility of library services for Indigenous people in the province.
Whether the series is delivered online or in person, Jessica Generoux, coordinator, SAS, says the importance of volunteers remains crucial to the program's success. "Volunteerism created the SAS project and established its sustainability over the years through the Library Services for Saskatchewan Aboriginal Peoples (LSSAP) committee."
Twenty years ago, introducing the tradition of storytelling within the library systems in Saskatchewan seemed like a strong starting point. It created a space for cultural transmission of knowledge, Generoux says, "The storytelling events and projects promote, protect and preserve Indigenous knowledge in Saskatchewan."
When it started, the program saw 21 storytelling sessions and 2,813 participants throughout the province. By 2021, and perhaps due to a hybrid delivery of both virtual and in person, SAS recorded an attendance of over 30,000 participants. Generoux also shared that a major highlight was when the Government of Saskatchewan officially declared February as Storytelling Month in the province.
Over the years, volunteers have contributed in many ways, including assisting with crowd control, greeting, committee work, promotions and communications, programming, video recording, technical support, set up/take down, as well as researching and distributing resources to community members in attendance. With plenty of work going into Storytelling Month, Generoux explains, SAS's volunteer engagement continued to expand over time – ranging anywhere from 50 to 100 volunteers. She says, anyone associated with regional library systems can get involved in SAS projects.
Harriet Roy (although now retired) has been a long-time volunteer since the formation of SAS and got involved through her role at Pahkisimon Nuye?àh library system in Air Ronge. After the minister's Advisory Committee report recommended more access to libraries for all Saskatchewan residents, Roy says a committee was formed within LSSAP to review the services of the public library system for Indigenous peoples, on and off reserve. "We [aimed for more] participation in the libraries, and initially started hosting round dances," Roy says. shortly afterwards, SAS was created.
During Roy's 20 years of volunteering with LSSAP, the organization has seen three part-time coordinators help deliver the SAS series, as well as a growth in volunteers and participants. Roy also shared that, as the program and its capacities have grown, so have the portfolios of Indigenous writers and storytellers in the province. "Having the storytelling project in Saskatchewan has made some inroads in making the public libraries more welcoming and has opened doors for Indigenous people to not only use the services, but also in becoming part of the library community."
LSSAP received support from SaskCulture's Aboriginal Arts and Culture Leadership Grant funded by Sask Lotteries Trust Fund for Sport, Culture and Recreation.