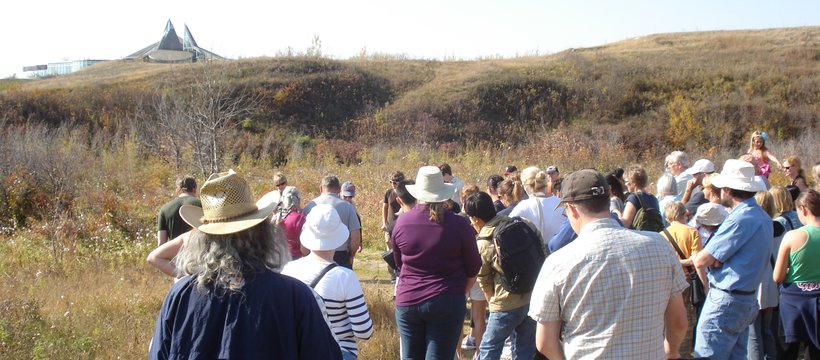 Wanuskewin draws a crowd for Culture Days
In this issue

Engage - Volume 3, Issue 1 Winter 2012
"Culture Days at Wanuskewin Heritage Park was a great success this year. We were expecting around 100 people, but throughout the day over 500 people visited the park," says Cameron McRae, visitor services manager, Wanuskewin Heritage Park.

Wanuskewin took the opportunity of Culture Days to partner with several organizations to provide a fun-filled day of activities for patrons. The Saskatchewan Archaeological Society, University of Saskatchewan, St. Mary/Oskayak Dance Troupe and the Multicultural Council of Saskatchewan all played a role in hosting activities throughout the day.

The day began with a behind the scenes trail walk with archaeologist Dr. Ernie Walker, exploring various historical archaeological sites. The sites included numerous habitation sites: four bison kills sites, a tipi ring and a boulder alignment. As well, Wanuskewin staff led a behindthe- scenes art gallery tour, and the St. Mary/Oskayak Dance Troupe performed traditional First Nations and Métis dances. There were also flint-knapping and beading demonstrations and dream catcher workshops held throughout the afternoon. The day concluded with a free bannock bake in the tipi village.

"Culture Days was a great experience for those who came to visit the park," says McRae. "People had the opportunity to be exposed to First Nations and Métis cultures and traditions and there was ample time for discussion with staff and volunteers," he adds.

Wanuskewin received a Culture Days grant from SaskCulture to assist with programming. "Because of the grant, we were able to offer free admission to the park all day," says McRae. "It allowed us to increase our accessibility and reach a whole group of people who had never been to Wanuskewin."

Plans are already under way for next year's Culture Days events. "Fall is a great time to have people come out to the park," comments McRae. "We are excited to continue to partner and expand our programming with other organizations, building upon the success of this year's activities."

Wanuskewin exists to help increase awareness, sensitivity and knowledge of the Northern Plains Indigenous cultures to both First Nations and non-First Nations visitors. Partnership, respect, tolerance, teaching, learning and understanding are the values upon which the heritage park was founded.