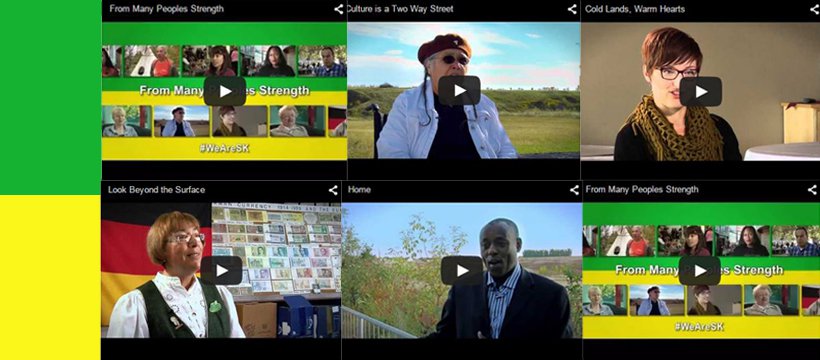 #WeAreSK Public Service Announcements
During Culture Days 2013, the
Multicultural Council of Saskatchewan
(MCoS),
Saskatchewan Organization of Heritage Languages
(SOHL),
the Saskatchewan German Council
(SGC),
the Ukrainian Canadian Congress - SPC
(UCC-SPC),
the Conseil culturel fransaskois
(CCF), the
Aboriginal Friendship Centres of Saskatchewan
(AFCS) and
the Saskatchewan Filmpool Cooperative
partnered to hire a freelance journalist, Evie Ruddy, and a videographer, Jason Rister, to travel around the province collecting stories of integration.
They interviewed 23 members of the multicultural community at eight events in seven communities. The interview clips have been assembled into a series of six 30 second Public Service Announcements (PSAs) for broadcast with the following themes: Culture is a Two-Way Street; From Many Peoples Strength; Cold Land, Warm Hearts; Look Beyond the Surface; Home; and Overcoming Discrimination.
The PSAs were launched at a Multicultural Forum hosted by MCoS and the Ministry of Parks, Culture and Sport on November 15, 2014 as a part of the kick-off to Saskatchewan Multicultural Week and a celebration of the 40th Anniversary of the original Saskatchewan Multicultural Act.
You can check out the videos below!
This project was supoprted through the Culture Days Funding Assistance Grant from SaskCulture thanks to the Saskatchewan Lotteries Trust Fund for Sport, Culture and Recreation.