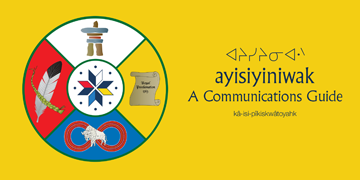 Communications Guide Helpful for Reconciliation Efforts
Many organizations that are working towards more open and inclusive programs and services are interested in how to make changes, and build more meaningful relationships with Indigenous peoples and communities.
The first step for many is examining their knowledge and understanding of Canadian history, and in particular, of First Nations, Métis and Inuit peoples and cultures. The Truth and Reconciliation Committee of Canada's (TRC) final report, principles of truth and reconciliation and the 94 Calls to Action serves as a good starting point to learn background and more about how to contribute to reconciliation efforts.
As an example, the City of Saskatoon responded to TRC Call to Action #57, which calls upon governments to educate employees about Indigenous peoples, residential schools, Treaties, and more, by taking action to support this type of education. The City worked in partnership with representatives from the local Indigenous organizations to develop ayisiyiniwak: A Communications Guide.
The Communications Guide provides a wealth of information to help enhance knowledge of First Nations, Métis and Inuit people and communities. There are sections that cover the unique aspects of each of the distinct Indigenous groups, along with helpful information such as etiquette, protocols and terminology. For example, it provides some guidance on how to respectfully meet with Elders and the significance of offering tobacco, as well as reminders of the diversity of cultures and practices of the Indigenous people living on this land. Since it was developed for people living in Saskatoon, there is an emphasis on the Treaty 6 Territory and Homeland of the Métis, but much of the information is applicable to other regions.
For other resources on reconciliation and First Nations awareness visit the Office of the Treaty Commissioner. For more on the Métis culture, visit Gabriel Dumont Institute. For guides and resources on building inclusiveness, visit SaskCulture's online Diversity and Inclusiveness Resources.