All News
SaskCulture collaborates on new funding program for BPOC artists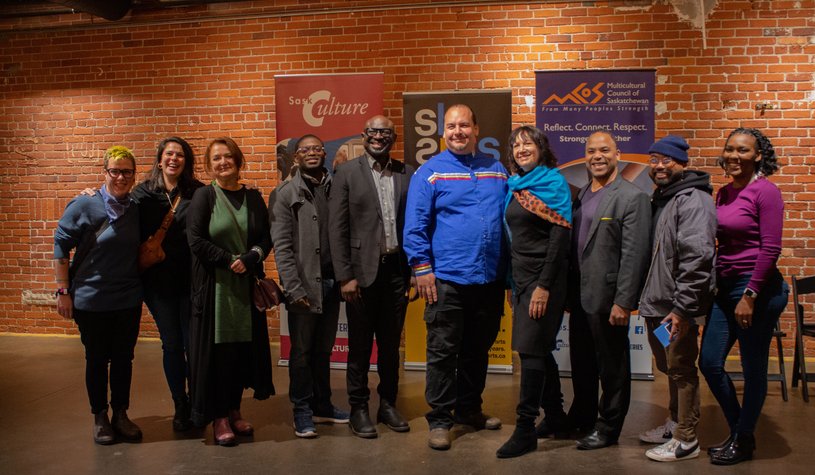 To help ensure that Saskatchewan's Black and People of Colour (BPOC) communities had access to arts funding that met their needs, a partnership of funding agencies collaborated with community members to discuss, design and deliver the new Building Equity in the Arts funding program. The new funding program, launched October 24, was created by the community and breaks down barriers to new and important arts opportunities.
Funding partners, SK Arts, SaskCulture and the Multicultural Council of Saskatchewan (MCoS) collaborated with members of the BPOC community to develop this new funding program. The new program aims to attract artists, collective groups and art leaders of African, Black, Asian, Latin American, Caribbean and Middle Eastern descent. The new program has two deadlines annually — February 1 and July 1 — and provides funding of up to $5,000 in funding to individual applicants.
Specifically designed to reach new members of the BPOC community, the program requires applicants to have previously accessed no more than $10,000 of SK Arts funding eligible under this stream. Organizations are also ineligible.
Carole Greyeyes, policy and planning advisor, SK Arts, said: "Our mandates and strategic priorities of inclusion, diversity, accessibility, and equity were the impetus towards building a new dedicated program that centres Saskatchewan BPOC artists. Because the more we encourage and support all the artists in all our programs, the richer we will all be. SK Arts, SaskCulture and MCoS are committed to making the changes for that happen."
The program was designed using the participatory grant-making process — ceding decision-making power about grants to the communities impacted by the funding decisions. Through a series of community consultations, the agencies met with the communities and developed the program to meet the challenges voiced by the BPOC arts community.
According to Damon Badger Heit, supervisor, Partnership and Inclusion, SaskCulture: "SaskCulture and its partners recognized the need for a change in the way arts and cultural grants work for people facing barriers to access. For this program, we moved forward with the assumption that artists and cultural leaders from equity-deserving communities know their needs best. The partnership focused on centering affected communities in the creation of a grant program that intends to sustain engagement and ongoing dialogue."
The Building Arts Equity program, funded by SK Arts and Sask Lotteries, is the second participatory grant-making program to be launched by SK Arts this year. Greyeyes says that the first was the Share and Connect: Indigenous Community Arts program, also developed in partnership, was a resounding success, strengthening the agencies' resolve to develop another program using participatory granting.
Rhonda Rosenberg, executive director, Multicultural Council of Saskatchewan, said: "Relationships are essential to building communities and creating change. We were able to leverage our partners to connect with artists from many cultural heritages who may not have applied or received funding in the past. We hope this grant will begin to create greater access for the artists who apply and result in support and visibility for more diverse artistic practices."
All three agencies are committed to listening to traditionally underserved communities and altering funding models that do not support diversity, inclusion and accessibility.
For more information, visit www.sk-arts.ca.