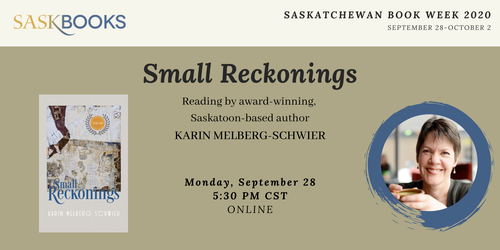 2020
Sep 28
5:30 PM — 7:30 PM
Cost: Free
Register
Artist/Author Talk
Arts: Literary
Small Reckonings: Karin Melberg-Schwier Author Reading
As a part of Book Week 2020, Karin Melberg-Schwier, from Saskatoon, will be reading from her debut novel, Small Reckonings (Burton House Books, 2020), which won the 2019 John V. Hicks Long Manuscript Award for Fiction and is now in its second printing.

The virtual reading will take place online on Monday, September 28th at 5:30 pm CST.

Pre-register for the reading and have your name entered to win a copy of Small Reckonings!

Small Reckonings tells the story of the Burke family and their physical and emotional isolation, as homesteaders scratching out a new existence on the prairie. William, an adventurer from New Zealand, brings his bride to the freshly broken earth of his farm near Watrous, Saskatchewan. Violet, the child born 'feebleminded,' plunges her mother Louise—a woman burdened with a secret—back to a time of guilt and regret. The child draws out goodness and loyalty in her neighbours, Hank and Emily. But tragedy upends this family, taking the reader at breakneck speed again and again, finally rendering the strength to forgive and realize no one is infallible.

Readers of Karin Melberg-Schwier's most recent non-fiction, Flourish: People with Disabilities Living Life with Passion, and her numerous other works, will love her first novel.

Karin Melberg-Schwier is a freelance writer, editor, illustrator, and the editor/writer for Saskatoon HOME magazine and Prairies North. She has written eight non-fiction books—including two illustrated children's books— exploring the lives of people with intellectual disabilities, and edited several others. One book was translated into German, Italian, and Korean. Actor Benjamin Bratt performed a piece from another as a dramatic reading at the Santa Monica Playhouse. In 2013, Karin received a YWCA Women of Distinction Award (Arts and Culture) for her writing on disability issues. Small Reckonings is her first novel.
Register
2020
Sep 28
5:30 PM — 7:30 PM
Cost: Free
Organizer
Accessibility