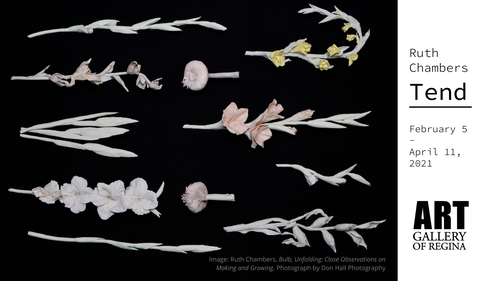 Art Exhibition
Arts: Visual
Ruth Chambers: Tend
Ruth Chambers: Tend
Dates: February 5 - April 11, 2021
Venue: Art Gallery of Regina (2420 Elphinstone Street)
Closing reception: April 9, 2021 (by appointment)
Artist talk: April 9, 2021
The Art Gallery of Regina (AGR) opens a solo exhibition of more than sixty hand-sculpted porcelain flowers and bulbs by ceramicist Ruth Chambers entitled Tend on Friday, February 5, 2021. Each pale, diminutive porcelain object reproduces the plant or geophyte bulb it is modelled from in exacting and exquisite detail.
Pinned to the gallery walls or arrayed on specially-constructed specimen tables, Chambers' works couple the sensuality of art and the empirical observation of science. Marvel at the thread-like fingers of root reaching from the varicose belly of a bulb in search of water. Or, the triumphant bugle-shaped bloom of a hollyhock erupting from a sturdy stem adorned with tightly curled buds and the delicately drooping folds of a wilted petal. Each lifelike sculpture plucked, pinched, and pulled from lightly tinted porcelain clay.
Visit the exhibition from February 5 – April 11, 2021, at the AGR. Admission is free; the gallery encourages interpretation and engagement with Tend's ideas and techniques through accessibly-written self-guided tour pamphlets, audio tours, and an online exhibition catalogue featuring an essay by art historian Julia Krueger.
Seize two opportunities to learn porcelain sculpting from life from AGR exhibiting artist Ruth chambers. Chambers will conduct an online demonstration, registration $10, on Friday, March 26 at 6 PM and an in-person workshop on Saturday, March 27 from 10 AM – 4 PM at SILT Studio, Regina. For more information, visit
www.artgalleryofregina.ca
Organizer
Accessibility
Wheelchair Accessible
Safe and Inclusive Space