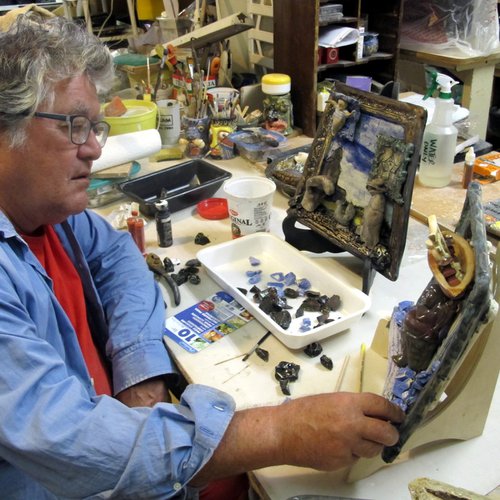 Art Gallery of Swift Current
411 Herbert Street East
Swift Current SK
S9H 1M5
Treaty 4 Territory
Cost: 330
Register
Workshop
Arts
Arts: Multidisciplinary
Other
Making a Scene: Ceramic Slip Casting Collage with Charley Farrero and Tim Moore
On this intensive 4 day workshop, participants will learn the art of ceramic slip-casting and creating 3-dimensional collage from renowned Saskatchewan artists Charley Farrero and Tim Moore.

Charley's exhibition A Certain Detour is currently being shown at Art Gallery of Swift Current.

Originally from Paris, France, Charley Farrero has worked as a ceramic artist since 1972. His ceramics work has exhibited worldwide. Tim Moore is a Métis artist whose work revolves around identity within Canadian post-colonial constructs. His work challenges a multitude of media from collage to mixed material sculpture and has been shown nationally.

Charley's thoughtfully spontaneous ceramic collages combined with Moore's cheeky representations is sure to intrigue and develop the imagination of participants while learning the fundamental skills of collage and ceramics.
Register
Art Gallery of Swift Current
411 Herbert Street East
Swift Current SK
S9H 1M5
Cost: 330
Organizer