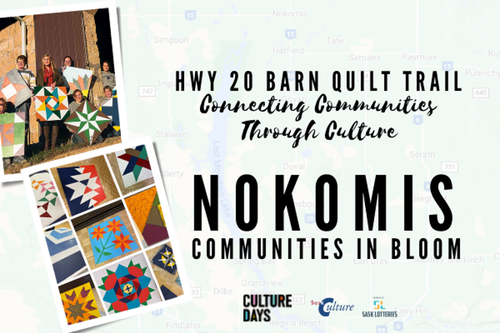 Nokomis SK
Treaty 6 Territory
Cost: Free
More Info
Special Event
Arts
Arts: Multidisciplinary
HWY 20 Barn Quilt Trail: Connecting Communities Through Culture
Barn Quilts are large painted wooden replicas of quilt squares that are hung on barns and large outbuildings. Barn quilts draw attention to Saskatchewan's both disappearing and vibrant rural landscapes. Quilting is an art. The quilt itself evokes both physical and emotional warmth in the memories of quilts from the past and present.
Community Coordinators in Nokomis, Strasbourg and Silton will prepare quilt block kits on a variety of pre-finished boards. Participants will be able to paint the quilt block on site or take home to work on.
We hope to not only capture the beauty of the quilts on the trail, but also the stories to go along with the barns and buildings the quilt blocks will occupy. We want to link the communities through art, meeting and sharing with neighbours, visiting other communities, and reminiscing of past drives and events down Highway 20.
More details and information including package pick ups, paint nights and sponsorship to come from Nokomis Communities in Bloom, Strasbourg Recreation Board and Silton Recreation Board.
For more information on Barn Quilts head to
www.barnquilttrails.ca
and check out the newly created Saskatchewan Barn Quilt Page
https://www.facebook.com/saskatchewanbarnquilts
Organizer
Nokomis Communities in Bloom