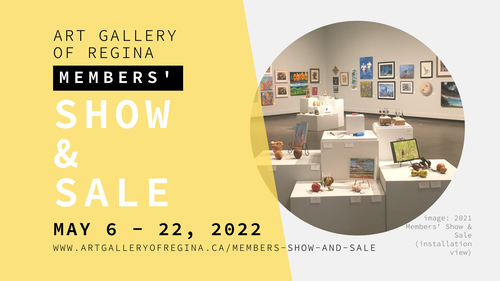 Art Exhibition
Arts: Visual
Art Gallery of Regina Members' Show & Sale
The Art Gallery of Regina's annual Members' Show & Sale features over 300 original works by approximately 100 members from communities across the province, such as Cadillac, Fort Qu'Appelle, Griffin, Meacham, Regina, Saskatoon, and Swift Current.
We are delighted to share the skill and diversity of art practices by our members our main gallery exhibition space from May 6 – May 22. Discover sophisticated and funky jewellery, stylish ceramics, whimsical sculpture, fine art prints, photography and original paintings at the Members' Show & Sale. Each one-of-a-kind item is for sale. Our member artists have something to suit every taste and budget.
Safely gather to meet the artists in attendance at the afternoon reception on Friday, March 6 from 1:00-4:00 PM. Please wear a mask. Coffee, provided by Pause Coffee, will be served in our open-air courtyard to reduce the risk of COVID-19 transmission.
​
We thank you for supporting the Art Gallery of Regina and local artists who have invested many years of hard work to develop their talents and unique artistic voices. A much-anticipated event, The Art Gallery of Regina's Members' Show & Sale, is also the gallery's most important fundraising event of the year; a portion of proceeds supports the Art Gallery of Regina's free exhibitions and affordable workshops. The Art Gallery of Regina is a non-profit, public gallery and a registered charity.
​
See Art Gallery of Regina staff to purchase artworks or shop our online store:
www.artgalleryofregina.ca/artworksforsale
.
The Gallery is open during regular hours (Mon - Thurs: 11:00 AM-7:00 PM; Fri - Sun: 1:00-5:00 PM) for the duration of the Members' Show & Sale. Admission is FREE.
We do not ship or deliver artworks. Pick up your purchases (bring your payment receipt with you) at the Art Gallery of Regina (2420 Elphinstone Street) on Tuesday, May 24, from 11:00 AM - 5:30 PM Participating members may pick up any unsold work at this time. ​
Organizer
Accessibility
Wheelchair Accessible
Safe and Inclusive Space