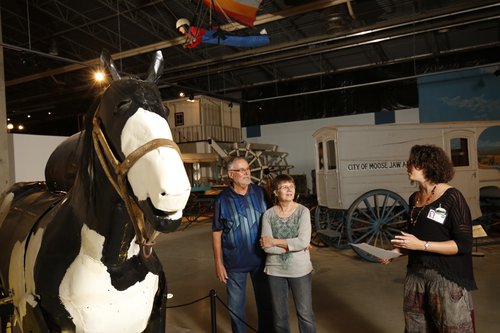 Western Development Museum - Moose Jaw
50 Diefenbaker Drive
Moose Jaw SK
S6J 1L9
Treaty 4 Territory
Cost: Free
Celebration
Heritage
Heritage: Museum / Knowledge Keepers
Heritage: Genealogy
Celebrating Seniors Month at the WDM
Join the Western Development Museum - Moose Jaw as we celebrate seniors and intergenerational learning in the month of September! All month long you can pick up a Celebrating Seniors activity booklet, participate in our time-hopping scavenger hunt, and watch films from the National Film Board about relationships and stories of different generations. These activities are included with regular Museum admission.
ACTIVITY BOOKLET Pick up your complimentary activity book that you may complete in any order as you visit our galleries and exhibits by yourself or with others in a group. Some questions will refer to specific artifacts that are on display while other questions can be done later at home. When you are finished, you will have recorded a booklet of memories. We hope you will have fun reminiscing and contrasting today's world with the way things were when you grew up. This activity is best enjoyed when completed with multiple generations participating.
ADVENTURES IN TIME HOPPING SCAVENGER HUNT Pick up an activity sheet and travel through time as you hop from era to era exploring artifacts that match the clues and prompts. What will you discover as you navigate the WDM's galleries and exhibits? It might be an artifact, a photograph or part of a larger display. Record your findings and bring your complete answers to the lobby for a chance to win a plush Piper Cub toy. Included with regular Museum admission throughout the month of September. Suitable for all ages, though younger visitors may require help from an adult.
NATIONAL FILM BOARD SCREENINGS Join us for some short films from the National Film Board. These films will be screened on a repeating loop in the 100 Years of Saskatchewan History theatre from September 1 to 30 and are included with regular Museum admission.
Granny and Mia, Émilie Villeneuve, 2018 | 2 minutes
Narrated by a six-year-old girl, the making of a rainbow cake takes on the magical power of bringing generations together. French with English subtitles
First Stories – Nganawendaanan Nde'ing (I Keep Them in My Heart), Shannon Letandre, 2006 | 6 minutes
In this short documentary, filmmaker Shannon Letandre examines the importance of traditional knowledge and how it can be shared from generation to generation. First Stories is an emerging filmmaker program for Indigenous youth which produced 3 separate collections of short films from Manitoba, Saskatchewan, and Alberta. Produced in association with CBC, APTN, SCN, SaskFilm and MANITOBA FILM & SOUND.
With Grandma, François Hartmann, 1999 | 9 minutes
When her parents leave her behind for the first time, Madeleine sees them off with tears in her eyes. Fortunately, her grandmother is there to coax her out of her sadness. Grandma's house is full of surprises, including a chest full of costumes perfect for dress-up. Together they play and bake. Slowly, Madeleine discovers that Grandma seems to know exactly how to have fun. Adults will reminisce about cherished moments shared with grandparents and reflect on the nature of memory. Younger children will be delighted by young Madeleine's adventures. A film without words.
First Stories – ati-wîcahsin (It's Getting Easier), Tessa Desnomie, 2007 | 6 min
In this short film, filmmaker Tessa Desnomie celebrates the life and times of her grandmother, Jane Merasty. Born and raised on the trapline, this Woodlands Cree woman has witnessed significant changes throughout her vigorous 80 years. First Stories is an emerging filmmaker program for Indigenous youth which produced 3 separate collections of short films from Manitoba, Saskatchewan, and Alberta. Produced in association with CBC, APTN, SCN, SaskFilm and MANITOBA FILM & SOUND.
Ludovic – Visiting Grandpa, Co Hoedeman, 2001 | 11 minutes It's summer and Ludovic is invited to his grandfather's farm. The little teddy bear finds Grandpa very saddened by the death of Grandma, and Ludovic is fascinated by a room filled with mementos. Grandma's portrait comes to life, and Ludovic is able to kiss and hug her. This poignant tale evokes the closeness and understanding between a grandfather and his little grandson who gradually learn to accept the death of a loved one.
Mamie, Janice Nadeau, 2016 | 6 minutes
Mamie lives in Gaspésie in a house that faces away from the sea. Her granddaughter wonders: "Why isn't Mamie interested in me or her other grandchildren? Why won't she give me any affection or her beautiful blanket? What happened that made Mamie so indifferent?" Just like her home, Mamie shuts herself off and won't let anyone into heart. If it's true that we are the summary of our experiences and those we allow into our lives, what remains if we don't let anyone in? In this wonderful animation of hand-painted watercolours, the filmmaker reaches back into her own childhood memories to share a personal and touching story about the break in "passing things on" between her and her grandmother.
The Grasslands Project: Generations, Scott Parker, 2016 | 7 minutes
This short documentary from The Grasslands Project introduces us to nineteen-year-old Shawn Catherwood, who knew from a young age that he'd be a farmer. Many small communities are losing their young people, attracted to careers away from the farm. But it's always been Shawn's dream to follow in the footsteps of his father, Ken. This film shows Shawn and his father as they navigate the coming generational change, while the audience is given insight into their deep love of the family farm.
For more information, please call 306-693-5989 or visit
https://wdm.ca/seniorsmonth/
Western Development Museum - Moose Jaw
50 Diefenbaker Drive
Moose Jaw SK
S6J 1L9
Cost: Free
Organizer
Accessibility
Wheelchair Accessible
Safe and Inclusive Space