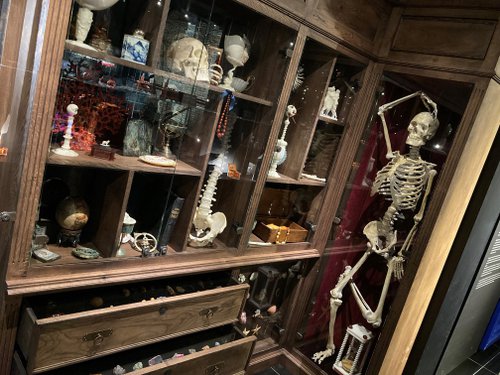 2022
Oct 15
1:00 PM — 4:00 PM
Western Development Museum - Moose Jaw
50 Diefenbaker Drive
Moose Jaw SK
S6J 1L9
Treaty 4 Territory
Cost: $10 - $25
Includes Museum admission
Workshop
Heritage
Heritage: Museum / Knowledge Keepers
Heritage: Storytelling
Cabinet of Curiosities Workshop
Learn about Cabinets of Curiosities and how they spark the sense of wonder of the world, while making connections to modern-day museums including the WDM. Hear about the importance of everyday objects and their connection to human knowledge and history.
Also in this workshop, learn about what's involved in artifact collecting, why we collect and how we categorize, rearrange and classifying objects within the Museum. You will also have the opportunity to study some of your own "artifacts" as well as learn how to create your own portable museum.
Recommended for ages 12 - adult. Pre-registration is required and includes Museum admission.
ADMISSION
Adults $25
Youth (ages 12 – 18) $15
Adult WDM members and volunteers $20
Youth WDM members and volunteers (ages 12 – 18) $10
Tickets can be purchased here:
https://www.eventbrite.com/e/cabinet-of-curiosities-workshop-tickets-390596884797
2022
Oct 15
1:00 PM — 4:00 PM
Western Development Museum - Moose Jaw
50 Diefenbaker Drive
Moose Jaw SK
S6J 1L9
Cost: $10 - $25
Includes Museum admission
Organizer
Accessibility
Wheelchair Accessible
Safe and Inclusive Space