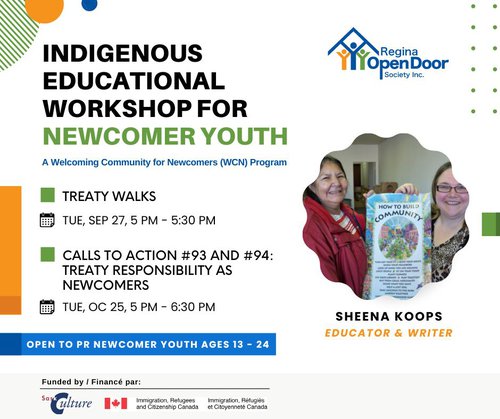 Presentation
Indigenous
Multicultural
Indigenous Educational Workshop for Newcomer Youth
The Indigenous Educational Workshop for Newcomer Youth 13 -24 provided by RODS-WCN-Youth Program is a monthly program designed to foster cross-cultural understanding and relationships by providing a safe environment for dialogue and a sense of belonging and creating welcoming and inclusive communities for all members with a focus on needs, interests and contributions of Indigenous people, newcomers and the community at large.
We are pleased to have Sheena Koops in the month of September and October, who would like to present on "Treaty Walks" and Calls to Action #93 and #94 about Treaty Responsibility as newcomers. Here is a link to her blog that she kept called Treaty Walks
http://treatywalks.blogspot.com/
Sheena Koops is a doctoral student and sessional instructor at the University of Regina. Situated as a settler colonial descendant, Sheena is a Nation Builder Advocate with Treaty Education Alliance in Fort Qu'Appelle, in the heart of Treaty 4 territory. Sheena has taught in urban, rural, band, provincial, and community schools for 27 years. Sheena chairs the Treaty 4 Gathering Student Activities Committee.
To Register:
https://rods.sk.ca/programs/settlement/wcn/youth/youth-bridges-registration-form/
Zoom Info:
https://rods-sk-ca.zoom.us/j/87280762640
Meeting ID: 872 8076 2640