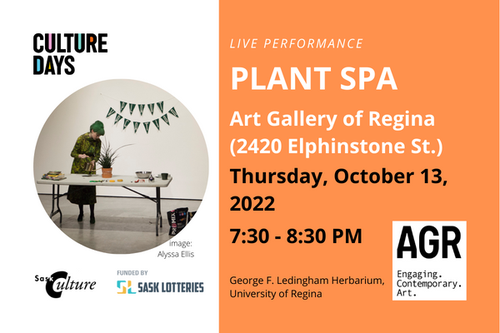 2022
Oct 13
7:30 PM — 8:30 PM
Art Gallery of Regina
2420 Elphinstone Street
Regina or Remote/Hybrid SK
S4P3C8
Treaty 4 Territory
Map
Cost: Free
In Person
Regina or Remote/Hybrid
Register
Special Event
Arts
Arts: Visual
Live Performance: Plant Spa
Live Performance: Plant Spa
Thursday, Oct 13, 2022
7:30 - 8:30 PM
Art Gallery of Regina Main Gallery
Audiences can observe and participate as artist and horticulturalist Alyssa Ellis performs Plant Spa in her gallery installation comprised of pennants, plant tending tools, books on plant care, plants, and a specially-created audio score for 55 - 60 minutes. The score is distinguished by an intermittent, high-pitched ring, which was believed to stimulate growth and increase plant happiness in the urban environment.
Members of the community are invited treat their houseplants to a spa treatment performed in the gallery. (It is free to book a spa treatment for a companion plant; participation is limited to 14 plants allocated on a first-come, first served basis.)
Moving beyond self-focused self-care as a method of addressing societal trauma, tending to the needs of domestic plants presents new avenues of peace and healing for plant, practitioner, and plant owner.
Meditative in pace and action, Plant Spa immerses audiences in restful and informative experiences of plant grooming - leaf cleaning, replanting, and trimming - set to a score inspired by 1970s sonic research.
With her green hair and foliage-printed dresses, Ellis' presence is critical to the goals of her performance: to dissolve the distinction between human and the vegetal. In tending to the needs of plants and becoming plant-like herself, she models non-hierarchical ways for people to reimagine caring and mutually beneficial relationships with plants. Not as owner and object, but as equivalent beings who thrive in partnership.
Book a free spa treatment for your plant online:
https://www.eventbrite.ca/e/418216084567
.
2022
Oct 13
7:30 PM — 8:30 PM
Art Gallery of Regina
2420 Elphinstone Street
Regina or Remote/Hybrid SK
S4P3C8
Map
Cost: Free
Organizer
Accessibility
Wheelchair Accessible
Safe and Inclusive Space