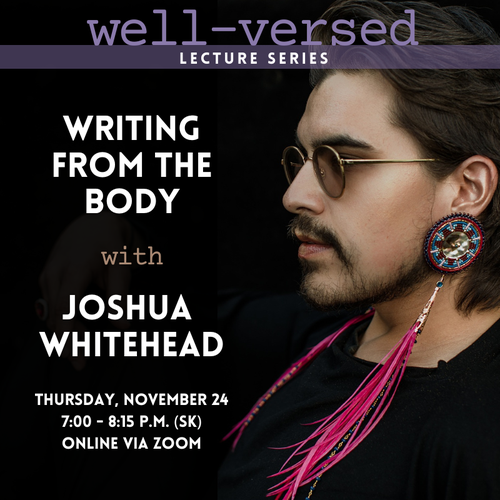 2022
Nov 24
7:00 PM — 8:15 PM
Cost: Free
Register
Artist/Author Talk
Arts: Literary
Well-Versed Lecture with Joshua Whitehead "Writing from the Body"
The Saskatchewan Writers' Guild presents a virtual Well-Versed lecture with Joshua Whitehead on Thursday November 24, 2022 at 7:00 pm SK time (CST).
To register for this free virtual event, please visit:
https://us02web.zoom.us/webinar/register/WN_QzU1vaJqSp6IC9zaYSmLBg
This event will be recorded and available for 30 days on the SWG Youtube Channel.
"Writing from the Body"
Joshua Whitehead aims to explore how we write with, of, and from our bodies in ways that prioritize cyclical relationships with all animate beings (including non-human). Questions he might ask: Does a wound hold knowledge? How is our body in relationship with the plethora of bodies we are in community with: water, earth, stone, literature? How do we prioritize the realm of the ancestral in the guise of a dream as a writing praxis? In this talk, Whitehead will offer a guide to his writing styles and interests that spans a larger constellation of knowing inherent within the noun: body.
Joshua Whitehead (he/him) is a Two-Spirit, Oji-nêhiyaw member of Peguis First Nation (Treaty 1). He is currently a Ph.D. candidate, lecturer, and Killam scholar at the University of Calgary. He is the author of Making Love with the Land (Knopf Canada 2022), full-metal indigiqueer (Talonbooks 2017), Jonny Appleseed (Arsenal Pulp Press 2018), and the editor of Love After the End (2021). His full bio can be found on
skwriter.com
.
Register
2022
Nov 24
7:00 PM — 8:15 PM
Cost: Free
Organizer
Accessibility
Deaf / Hard of Hearing
Safe and Inclusive Space