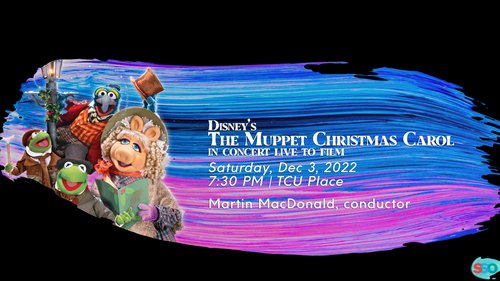 2022
Dec 03
7:30 PM — 9:30 PM
TCU Place, Sid Buckwold Theatre
35 22 St E, Saskatoon, SK S7K 0C8
Saskatoon SK
SK
Treaty 6 Territory
Cost: $64-$87
Concert
Arts: Visual
Arts: Music
Arts: Media
Disney's The Muppet Christmas Carol
Martin MacDonald, conductor

Fun | Nostalgic | Festive

The Saskatoon Symphony Orchestra will present Disney's The Muppet Christmas Carol in Concert featuring a screening of the complete film with the musical score performed live to the film. The concert will be led by conductor Martin MacDonald. Single tickets are available now!

The Muppets perform the classic Charles Dickens holiday tale, with Kermit the Frog playing Bob Cratchit, the put-upon clerk of stingy Ebenezer Scrooge (Michael Caine). Gonzo, as Dickens, narrates the story with the help of Rizzo the Rat. The film also features Miss Piggy as Emily Cratchit, Gonzo as the narrator Charles Dickens, Fozzie Bear as Fozziwig, and Robin the Frog as Tiny Tim. Scrooge receives visits from spirits of three Christmases — past, present and future. They show him the error of his self-serving ways, but the miserable old man seems to be past any hope of redemption and happiness.

The original score was composed by Miles Goodman ("Dirty Rotten Scoundrels," "Little Shop of Horrors") with songs by Oscar®, Emmy® and Grammy®-winning songwriter Paul Williams ("Rainbow Connection," "Evergreen").

Disney's The Muppet Christmas Carol Live to Concert is presented by the Saskatoon Symphony Orchestra, conducted by Martin MacDonald and will be performed at TCU Place on December 3rd, 2022 at 7:30 PM.

ABOUT DISNEY CONCERTS

Disney Concerts is the concert production and licensing division of Disney Music Group, the music arm of The Walt Disney Company. Disney Concerts produces concerts and tours, and licenses Disney music and visual content to symphony orchestras and presenters on a worldwide basis. Disney Concerts' concert packages include a variety of formats, such as "live to picture" film concerts and themed instrumental and vocal compilation concerts, and range from instrumental-only symphonic performances to multimedia productions featuring live vocalists and choir. Current titles include the Star Wars Film Concert Series (Episodes IV-VII), Beauty and the Beast, The Little Mermaid, Fantasia, Pixar In Concert, The Nightmare Before Christmas, Alice In Wonderland, Frozen, Ratatouille, The Pirates of the Caribbean series (Episodes I-IV), and Silly Symphonies, which last year collectively accounted for over 575 performances in many of the world's top concert venues, including Lincoln Center, Royal Albert Hall, Sydney Opera House, Tokyo Forum and the Hollywood Bowl. Numerous new concert packages and touring productions from Disney's portfolio of studios, including Disney's feature animation and live action studios, Pixar, Lucasfilm and Marvel, are currently in development.
2022
Dec 03
7:30 PM — 9:30 PM
TCU Place, Sid Buckwold Theatre
35 22 St E, Saskatoon, SK S7K 0C8
Saskatoon SK
SK
Cost: $64-$87
Organizer