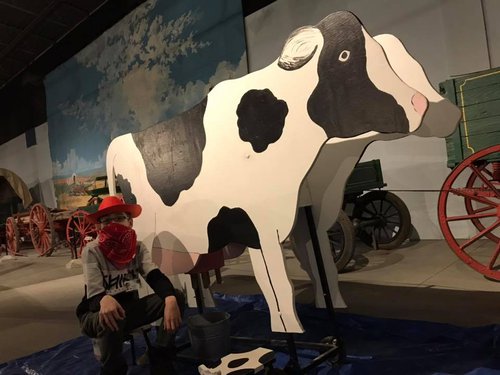 2023
Feb 11
11:00 AM — 4:00 PM
Western Development Museum - Moose Jaw
50 Diefenbaker Drive
Moose Jaw SK
S6J 1L9
Treaty 4 Territory
Cost: Activities are free
Admission required to visit WDM galleries
Gathering
Heritage: Museum / Knowledge Keepers
Heritage: Genealogy
Indigenous: Métis
Community Heritage Day
In partnership with local community groups and provincial organizations, you are invited to celebrate the heritage of our country, province and city. Confirmed groups and organizations who will be in attendance to share their knowledge and information are:
- The Sukanen Ship Pioneer Village Museum
- Saskatchewan German Council
- Friends of St. Victor Petroglyphs
- Das Schulhaus – Regina German Language School
- New Southern Plains Metis Local #160
- Moose Jaw Branch – Saskatchewan Genealogical Society
- Provincial Archives of Saskatchewan
Special presentations will take place throughout the day, including:
11:00 am - Local author Joan Soggie will be making a presentation called "Discovering Rikka", about her research journey during the time she spent writing her novel "Rikka". Her book is about one of the first female Scandinavian settlers in western Canada, who travels from Norway to settle on the prairies.
1:00 pm - "Gerhard Herzberg – A Life in Science", presented by Dr. Rainer Dick, professor in the Department of Physics and Engineering Physics at the University of Saskatchewan. This presentation arranged by the Saskatchewan German Council compliments the travelling exhibit, "Enterprises of the Human Spirit" which will be on display at the WDM Moose Jaw through February 24. Dr. Herzberg was an eminent German-Canadian physicist who performed trailblazing research during his time in Saskatoon that laid the groundwork for his award of the Nobel Prize in Chemistry in 1971.
2:00 pm - "The Newcomers" is a documentary by CBC journalist and Saskatchewan German Council member, Teresa Kliem. It investigates the challenges of new immigrants in rural Saskatchewan. The film explores contemporary immigrant experiences and weaves in historical context from the early waves of immigration into the province. The film chronicles the lives of five immigrants facing isolation in small-town Saskatchewan as some of them struggle to find acceptance in their new homes.
The Western Development Museum will also have some hands-on activities and crafts for visitors of all ages to take part in throughout the day.
For more information, please call Karla at 306-693-5989 or visit
https://wdm.ca/event_manager/mjheritageday/
2023
Feb 11
11:00 AM — 4:00 PM
Western Development Museum - Moose Jaw
50 Diefenbaker Drive
Moose Jaw SK
S6J 1L9
Cost: Activities are free
Admission required to visit WDM galleries
Organizer
Accessibility
Wheelchair Accessible
Safe and Inclusive Space