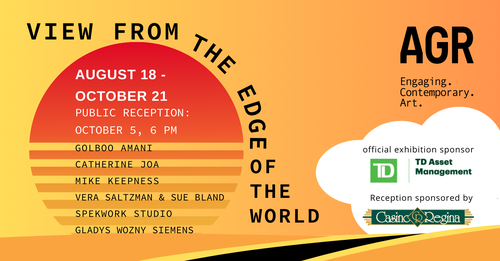 Art Gallery of Regina
2420 Elphinstone Street
Regina SK
S4P3C8
Treaty 4 Territory
Map
Cost: Free
Art Exhibition
Arts: Visual
Arts: Media
View from the Edge of the World
"View from the Edge of the World"
Catherine Joa, Gladys Wozny Siemens, Golboo Amani, Mike Keepness, SpekWork Studio and Vera Saltzman & Sue Bland
August 18 - October 22, 2023
Public Reception Thursday, October 5, 6 PM

"View from the Edge of the World" engages with and subverts Capitalist models of representing and thinking about land. Landscape painting traditions depend upon severing relationships with the land to turn it into a commodity to be consumed and harnessed as a symbol to unify a population.

Offering more than conventionally pretty images, artists in this exhibition work in media ranging from plaster casts to plein air painting and create situations that include a faux kitchen gathering place, a board game that counters narratives of conquest with collaboration, and a solar-powered machine that generates fake sunsets.

Our prairie landscape is not flat and featureless, dropping into nothingness at the horizon; it is full of lives, stories, unnoticed beauty and miraculous transformation. The presence of roads, graffiti, industrial farming, spiritual practices, settlement processes, technology and climate change are integral to these depictions of the land. We need new images of this place to discover its overlooked worth and craft a more profound harmony with it.
Art Gallery of Regina
2420 Elphinstone Street
Regina SK
S4P3C8
Map
Cost: Free
Organizer
Accessibility
Wheelchair Accessible
Safe and Inclusive Space