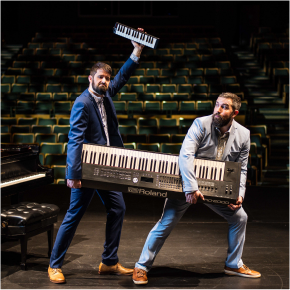 2024
May 08
7:30 PM — 10:00 PM
Mae Wilson
217 Main St
Moose Jaw SK
S6H 0W1
Treaty 4 Territory
Map
Cost: 29.97
Concert
Arts: Music
Arts: Media
Piano Heist
The show combines elements of theater, comedy, audience participation, stories, history, and musical madness to create a world of musical wonder.

Lifelong friends Nico Rhodes and Patrick Courtin are on a mission to redeem the piano and prove its status as the greatest instrument of all time.

With the music of great composers, songwriters, and performers and the use of technology, they present everything from classical piano pieces to boogie woogie and romantic ballads in their show Piano Heist.
2024
May 08
7:30 PM — 10:00 PM
Mae Wilson
217 Main St
Moose Jaw SK
S6H 0W1
Map
Cost: 29.97
Organizer
Accessibility
Wheelchair Accessible
Deaf / Hard of Hearing
Safe and Inclusive Space