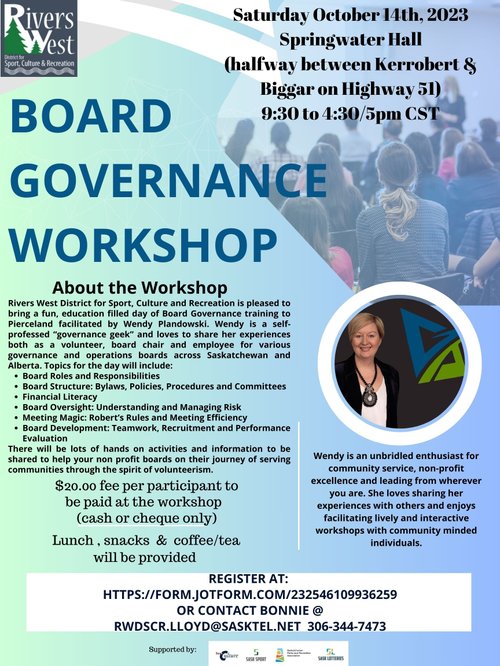 2023
Oct 14
9:30 AM — 5:00 PM
Cost: 20.00
Cash or Cheque only - to be paid at the workshop
Board Governance Workshop
Rivers West District for Sport, Culture and Recreation is pleased to bring a fun, education filled day of Board Governance training to Pierceland facilitated by Wendy Plandowski. Wendy is a self-professed "governance geek" and loves to share her experiences both as a volunteer, board chair and employee for various governance and operations boards across Saskatchewan and Alberta. Topics for the day will include:

Board Roles and Responsibilities
Board Structure: Bylaws, Policies, Procedures and Committees
Financial Literacy
Board Oversight: Understanding and Managing Risk
Meeting Magic: Robert's Rules and Meeting Efficiency
Board Development: Teamwork, Recruitment and Performance Evaluation

There will be lots of hands on activities and information to be shared to help your non profit boards on their journey of serving communities through the spirit of volunteerism.
2023
Oct 14
9:30 AM — 5:00 PM
Cost: 20.00
Cash or Cheque only - to be paid at the workshop
Organizer