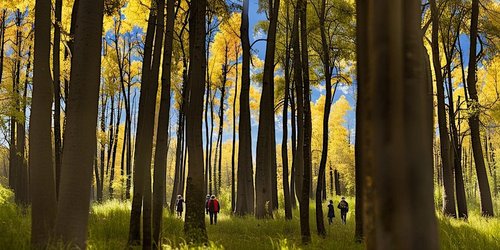 2023
Sep 22
6:30 PM — 8:30 PM
Richard St. Barbe Baker Afforestation Area
241 Township Road 362 Grasswood
Saskatoon SK
S7T 1A8
Treaty 6 Territory
Map
Cost: Free
Miyo-wāhkōhtowin / Good Relations in Afforestation Areas
Miyo-wāhkōhtowin / Good Relations Project Tour

Bridge cultures through land with a Two-Eyed Seeing journey. Embrace land's teachings, unite in a reconciliation journey.

Step into a transformative journey of unity and enlightenment with the Miyo-wāhkōhtowin / Good Relations Project Tour. This immersive experience offers an Indigenous philosophy-driven exploration, providing an indigenous lens framework to connect with the land. Our mission is to mend and nurture relationships between Indigenous and Non-Indigenous communities, guided by the healing power of rekindling ties with the land.

Embracing the concept of Two-Eyed Seeing, we embark on a collaborative, perpetual learning adventure. We blend the profound insights of Indigenous traditional wisdom with the conventional knowledge of mainstream scientific perspectives. Join us in an exploration that celebrates the intersection of these two worlds.

As Friends of Saskatoon Afforestation Areas Inc., we are deeply committed to the Truth and Reconciliation Calls to Action. In alignment with this national endeavor, we respect the guidance of Elders and survivors. Our focus lies within the historically significant and culturally sacred territory of the Richard St. Barbe Baker Afforestation Area and George Genereux Urban Regional Park. Together, we aim to bridge the relationship between Indigenous people and settler communities, integrating fundamental Indigenous knowledge and languages into our urban forest spaces.
2023
Sep 22
6:30 PM — 8:30 PM
Richard St. Barbe Baker Afforestation Area
241 Township Road 362 Grasswood
Saskatoon SK
S7T 1A8
Map
Cost: Free
Organizer