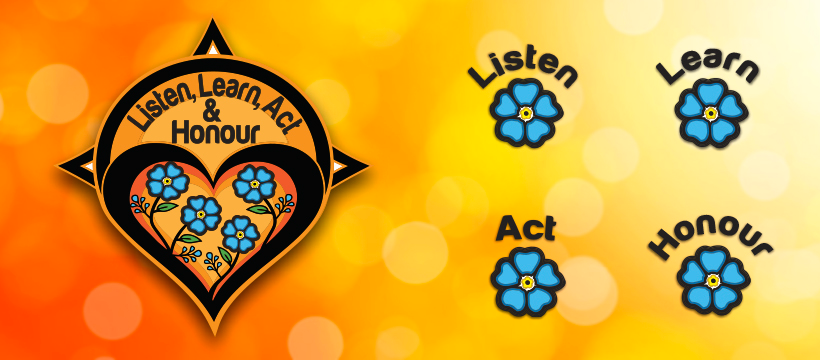 Indigenous Awareness Hub
The artwork above was created for SaskCulture by artist Megan Currie, Creative Director of X-Ing Design. Megan has provided an artist's perspective on the elements of the design and their meaning within the piece.
September 30 - National Day of Truth and Reconciliation (coinciding Orange Shirt Day)
In honour of the National Day of Truth and Reconciliation, take the time to learn the truth about the impact of residential schools on First Nation, Métis and Inuit peoples and how we can all contribute to reconciliation going forward.
For SaskCulture, September 30 will be a statutory holiday for staff and the office will be closed. SaskCulture encourages those, whether they are at home or work, to attend events, listen and learn about the impact, act on change and reconciliation, and honour those who are showing us the way, in particular the children and their families, who have been impacted by residential schools. #everychildmatters
The following are some ways to Listen, Learn, Act and Honour:
Attend
National Day for Truth and Reconciliation Virtual Event, Prince Albert, September 30, 10:00am
Orange Shirt Day Virtual Presentation, Royal Saskatchewan Museum, September 30, 2:00pm - 2:45pm
National Day for Truth & Reconciliation, Regina Public Library, September 30, 12:00pm
Every Child Matters Walk, Yorkton, September 30, 10:00am - 12:00pm
National Day for Truth and Reconciliation, Wanuskewin Heritage Park, September 27 - 29
Truth and Reconciliation Week 2021; virtual event open to all Canadian schools for Grades 5 - 12, September 27 - October 1
National Truth and Reconciliation Day Live Streaming, September 30, 8:00pm ET on APTN, CBC, CBC GEM
Wicihitowin Indigenous Cultural Engagement Conference, Virtual, October 5 - 7
Every Child Matters Commemoration Event, Saskatoon Indian & Métis Friendship Centre, 9:00am - 2:00pm
Watch
Listen
Learn
Read
Act
Donate
Some of the resoures identified in this list were excerpted from Celebrating Orange Shirt Day, prepared by the Regina Chamber of Commerce.