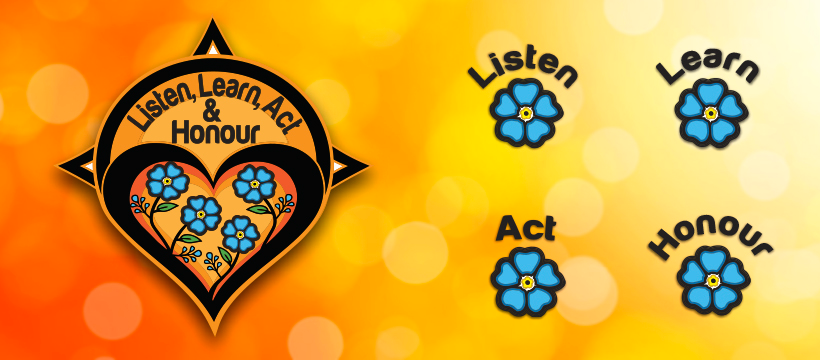 Indigenous Awareness Hub
It is important that we learn more about First Nations, Métis and Inuit people, cultures and experiences, and work together toward Truth and Reconciliation. According to the 2021 Census data, 17 per cent of Saskatchewan's population self-identified as Indigenous; the population is younger and expected to keep growing hence cultural leaders must build their understanding of change needed to increase the participation of Indigenous peoples in the cultural eco-system in the province.
Ready to begin?
Learn more about Truth and Reconciliation by reading, and then committing to take action, on the Truth and Reconciliation Commission's 94 Calls to Action.
Watch/Listen/Read to build understanding of the experiences of First Nations, Métis and Inuit people in Canada. There are many resources that share how residential schools sought to "kill the Indian in the child" by removing children from their families in the effort to destroy the cultural identities and family structures of Indigenous peoples. Check out resources to learn more.
Next, take action...
Attend events and activities hosted by Indigenous groups and leaders to help build understanding and relationships with Indigenous peoples in the province.
Connect and partner with Indigenous cultural leaders to build inclusive programming and services.
Honour Indigenous peoples by recognizing their outstanding achievements by celebrating National Indigenous History Month and National Indigenous Peoples Day.
Seek to better understand First Nations, Métis and Inuit experiences by taking part in the National Day for Truth and Reconciliation each year.
Take meaningful steps towards Truth and Reconciliation.

Attend
Joining celebrations of Indigenous peoples' achievements is an important part of building relationships with First Nations and Métis people in the province, as is participating in events and dates that publicly commemorate the painful history and ongoing impacts of residential schools.
There are many events and activities throughout the year that people can join to gain a better understanding of Indigenous peoples and cultures. Check out the provincial Events Calendar for some of the many activities that take place each year throughout the province.
Watch
Listen
Learn
Read
Act
Donate
Connect
Some of the resoures identified in this list were excerpted from Celebrating Orange Shirt Day, prepared by the Regina Chamber of Commerce.