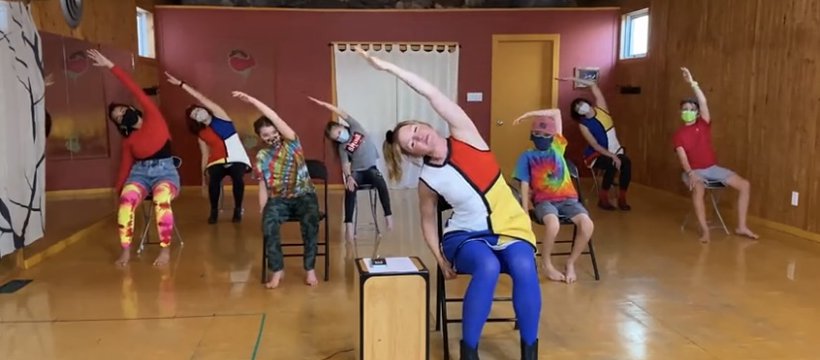 Access to songwriting and dance important to well-being
In addition to meeting the basic support, care and housing needs of people in its community, Eden Care Communities also focuses on its clients' creative and emotional well-being. Songwriting and dance workshops offered during Culture Days this past year created movement, energy and joy for many residents and guests.
"Our philosophy is 'person-centered, person-directed' care," says Crystal Massier, community enrichment specialist, Visual Arts program, Eden Care Communities. It is this core belief, and Massier's background in arts and culture, which led to the organization of cultural engagement activities for residents and a successful application to SaskCulture's Culture Days Hub Sponsorship.
"Our community is comprised of people of all ages and abilities," she says. "Our Culture Days programming in 2022 allowed us to offer safe, accessible and engaging activities suitable for everyone within our community, as well as for the public."
As part of the Culture Days Hub activities, Juno-nominated singer and songwriter Megan Nash led three online songwriting workshops that gave voice and opportunities for expression to participants. According to Massier, this was an especially meaningful opportunity for some of the participants who are non-verbal. "Seeing them moving and dancing and having a good time while participating over Zoom was a beautiful experience for everyone," she says. The online workshop led to the creation of a song titled "Stubborn Hope", a soulful melody that speaks to human resilience and resonated deeply for many due to the ongoing COVID-19 pandemic.
In addition, Eden Care Communities also featured Regina's FadaDance troupe, known for its positive, inclusive and contemporary dance programming. "It was originally planned as an in-person celebration of music, movement and dance for people to both absorb and contribute to the incredible energy FadaDance brings," explains Massier.
The pandemic, however, caused organizers to switch to an online dance movement workshop designed for people of all ages and abilities. "The change had a silver lining," she says, "because it ended up extending the workshop's reach, impact and shelf-life." Massier says the video is now used as an in-house activity that brings joy and movement to community members every time they participate.
Massier credits the flexibility of the Culture Days Hub sponsorship opportunity for the success of their Culture Days experience. "Being able to adapt our programming meant we could still offer accessible and engaging arts and cultural activities to our community in a way that ensured their health and safety while still providing the opportunity to reap the many benefits of creative participation and expression…even in the midst of a pandemic."
Eden Care Communities operates in Regina, Moose Jaw Saskatoon with a mission to support people of all ages and abilities to live a good life.
This project was supported through SaskCulture's Culture Days Hub Sponsorship, funded by Sask Lotteries.