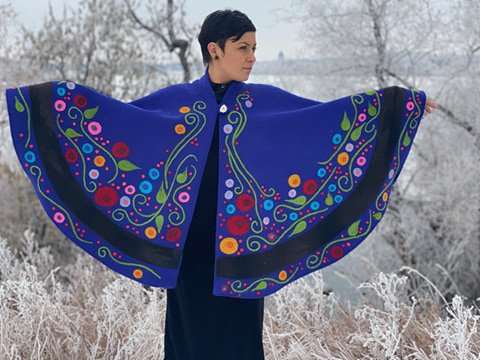 Art as a Story: How Melanie Rose Uses Art as Expression
In this issue

Engage - Volume 12, Issue 1, Fall 2021
Melanie Rose has always been an artist. "Both sides of my family, Métis and Ukrainian, are very creative in music, writing, and making. I come from a family of makers, it's always been part of my roots." Melanie and her sister took this family tradition and turned it into microbusinesses, making and sell natural jewelry. She has since gone on to explore the colourful and creative discipline of fibre arts and share her talents with others.
Rose was one of three artists who worked on SaskCulture's Culture Days project, held in partnership with Dream Brokers, to create a series of instructional videos that walk children and youth through art creation. With her background and experiences as a facilitator, she was intrigued when she heard about the Culture365 opportunity. "Education, and arts education particularly, is very important to me, so I saw it as a good fit to give children a unique art experience during the pandemic."
She created needle­felting and wet­felting videos, along with instruction sheets, available online, which will be of interest to students and at­home crafters. "Felt is a unique medium, one that is not something children would have gotten to use often before, so it's an experience for them," she says.
In the videos, Rose provides her cultural perspectives and hopes that the instruction will help those who have been disconnected from their cultures, reclaim them. "When I was younger, I was involved in my mother's Ukrainian heritage and culture and was able to express myself creatively through that lens," says Melanie. "As I got older, I started to connect more with my Métis ancestry.
"A large part of the reason I hadn't done so when I was younger, which is true for a lot of Métis people in Saskatchewan, is that a lot of our ancestors hid their Métis ancestry for the sake of safety. So being able to openly talk to that, to connect to that history in a way that my grandmother, Olive Rose, never had an opportunity to do, is such a gift."
While Rose was excited at the chance to share her knowledge in a digital format, she did admit that it was not without its challenges. "There was definitely a learning curve when it comes to recording videos by myself," she says. "There are little tricks you learn as you go, and the pandemic has definitely made it so a lot of us are having to learn these new skills.
"In the end, being able to provide this project digitally is awesome," she adds.
"Hopefully all the skills and techniques we've learned over the last year will produce even better and stronger projects going forward."
She also hopes that the workshops will allow participants to connect to art and their own cultures in personal ways. "I hope that the projects help others identify what inspires them," she notes. "Their history, or their culture, or other works that help them tell their personal stories. We all have our own cultures and histories, and art helps us tell those stories."
She adds that, "Art is a powerful tool to learn about our shared histories. It can inspire us to create, but it can also inspire us to learn."
Rose continues to keep herself busy and provide artistic instruction within the province. She is also working on an exhibition through OSAC called "tepakohp" (the Cree word for seven). "I felt inspired to create after the activism of Tristen Durocher last year," she says, "I wanted to amplify the voices of Indigenous women and help them tell their stories."