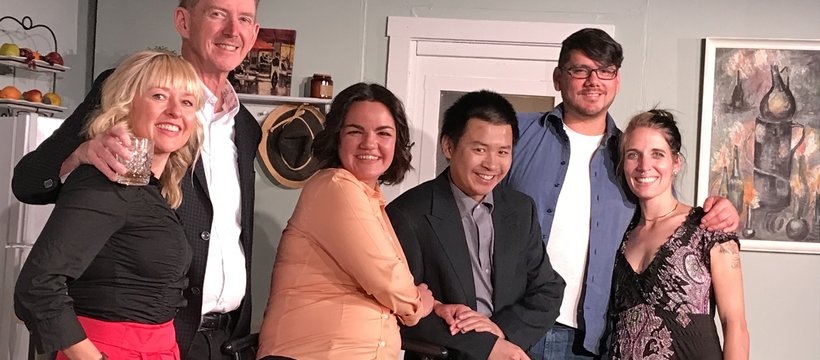 Battlefords Community Players Celebrates 75 Years Thanks to Volunteers
In this issue

Engage - Volume 13, Issue 2, Spring 2023
When you go to a show put on by the Battlefords Community Players, everyone you see bringing the production to life — from the actors to the ushers and bartenders — are all volunteers.
For over 75 years, Battlefords Community Players (BCP), a totally volunteer-run organization, has been bringing live theatrical entertainment to the Battlefords and area. Over the years, BCP has produced 250 plays, involved hundreds of volunteers, and received over 70 individual and group awards.
Donna Challis, BCP production coordinator, has volunteered for the club for over 50 years. In that time, she has witnessed how a strong commitment to a mission can keep a volunteer-run organization going even in tough times.
Regardless of the circumstances, the organization has always produced at least one show per year.
"It's just the love of doing theatre, and the love of wanting to see community theatre in the Battlefords. That's what keeps volunteers coming," Challis says. "Having a vibrant arts community is really important. Those volunteers work really hard to make it happen."
Putting on a show is a big undertaking, Challis says, especially for an organization that relies on volunteers for every task. A high turnover rate comes with the territory for a volunteer-run organization.
In her time with BCP, Challis has seen the amount of volunteers rise and fall many times. "It comes and goes," she says. "There always seems to be enough volunteers, but the core group changes quite often."
One such period of low engagement came three years ago when COVID hit. Challis says that it was the level of communication with their community and the group's commitment to the safety of their volunteers that allowed them to operate during that time, with a reduced audience and distanced rehearsals.
"Did we lose some volunteers? Absolutely. But there was enough interest and desire among the group who came out. And, they realized that we were serious about keeping them safe," Challis says.
Difficulties recruiting volunteers have been an issue long before COVID, says Challis, as it was for most groups in the province.
"We've all gone through those ups and downs, with volunteerism dropping off significantly," she says. "There's a base of volunteers that was created over the years, but as they get older, there's not that new group" coming forward.
For Challis, communication and personal connections are the key to keeping up with downward trends in volunteerism. Aside from increasing communications on social media and the local newspaper, the group also hosts social activities for people to get together outside of shows. Challis says, this is a good opportunity to call up and engage volunteers who are drifting away.
"I think all groups have to learn about personal contact — making sure people know they are wanted, and needed, and can help," she says.
Looking to future, Challis says the club plans to keep going with their current four shows a year, with increased outreach and training opportunities for volunteers. As a volunteer-run organization, the group is focusing on mentoring and developing new volunteers who bring the same passion for community theatre that has kept Battlefords Community Players afloat for 75 years. "That drives us as volunteers and as people that just love theatre," Challis says. "I'm still doing it because I love it."
Battlefords Community Players is a part of Saskatchewan's theatre network supported by Theatre Saskatchewan, funded by the Sask Lotteries Trust Fund for Sport, Culture and Recreation.