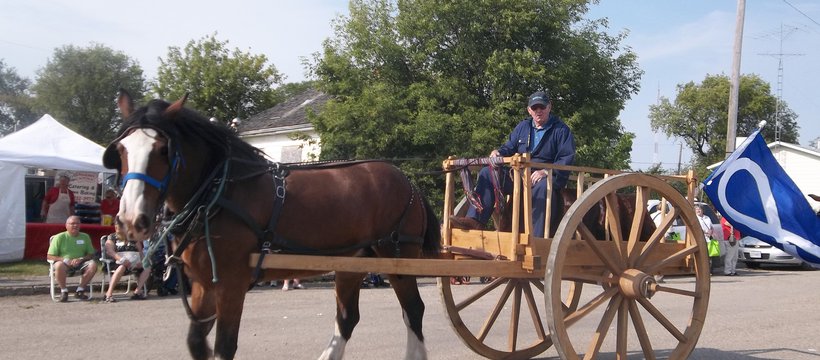 Centennial celebration brings communities together
In this issue

Engage - Volume 3, Issue 2 Spring 2013
The village of Lestock is moving into the future using music and dance to celebrate differences and bring diverse cultures together.

In 100 years there have been many changes in the village of Lestock and there is hope for an even brighter future. The community has a current population of about 138, and although they no longer support a school, there are successful businesses operating and anticipation that the community will grow when a new potash mine opens just a few kilometres away. The community is diverse. Many of the original settlers were Métis and Hungarian. Today First Nations people, Ukrainians and others have joined them. On August 31st, September 1st and 2nd 2012, cultures converged to celebrate the village's centennial.

Highlighting Métis culture was an important part of the celebration. At the end of March, Jerome Cartworks from Anola, Manitoba came to the community to teach participants how to build a Red River Cart. As the cart was put together, history was shared. Marina Roy, the representative of Lestock Métis local #8 on the centennial planning committee, explains, "It was made of oak, there isn't a screw or nail and it was made with the tools of the time. To grind down the axel they used a great big file. It was a long, cumbersome job. They used dowels and the rack was tied together with hemp rope." The Red River Cart was featured in the centennial parade and made the front page of local newspapers. It has been put away for the winter, but will be on display in the community during the summer months.

The centennial was a homecoming with over 1,000 people of all ages in attendance. Guests from across Canada and into the states enjoyed a weekend of meals, entertainment and visiting. There were historical walking tours, souvenir sales and fireworks. The parade drew 58 entries, many historical, including flag bearers on horseback and five entries from the Muskowekwan First Nation. The Northern Prairie Dancers, a group of Métis square dancers from Prince Albert, were featured in the parade and on the stage, along with a fiddler and guitar player from Saskatoon. The tent was filled with spectators as music filled the air and brightly coloured costumes swirled. There were also Hungarian dancers from Regina and RCMP in uniforms from the past and the present.

The village of Lestock is already planning another cultural event at the end of August 2013 involving Métis, First Nations, Hungarian and Ukrainian groups. The weekend will be another opportunity to celebrate the richness of the region's people and to launch a new community history book. "People want the Métis dancers back. The response they got was just amazing. Lestock citizens had never seen Métis people in that way," says Roy. "It is a slow process, but community attitudes are changing. These cultural events are helping the change," says Roy.