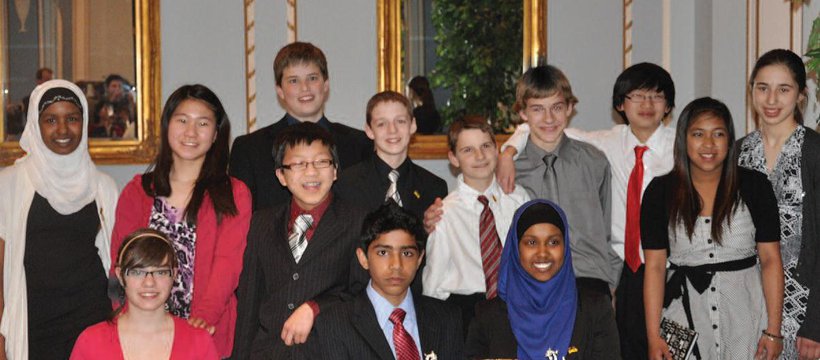 Champions only part of SEDA success
Supporting the pursuit of national championships, producing videos, hosting seminars and touring the north are just a few of the activities keeping the Saskatchewan Elocution and Debate Association (SEDA) busy this past year.

Possibly more hectic than past years, 2010- 11 has been filled with long sought after achievements. One of the most exciting moments was seeing student debaters from Saskatchewan win the 2011 National Junior Debate Championships.

"This was the first time Saskatchewan students have won this national championship," explains Lorelie DeRoose, executive director, Saskatchewan Elocution and Debate Association. The two student debaters, Nasra Moumin and Areeb Salim, both from Campbell Collegiate in Regina, also won first and second speaker. "It made it even more special that they won here at home" she adds. The Junior National Debate Championship, which focused on energy resources, was held May 12-15 in Estevan and Regina.

Also big news this year, Nicholas Carverhill originally from Saskatoon, had the opportunity to travel the world with Team Canada, competing in debate tournaments. Carverhill won the Top Speaker in the European Open in the Czech Republic and as an alternate, cheered the National Team to a Top 8 finish at theWorld Debate Championships in Scotland in August. Carverhill is only the sixth Saskatchewan person to ever make it on to the National Team and the fourth to be on the primary team, which will be competing at Worlds in South Africa this coming winter. His interest in debate started with his participation in SEDA's first summer debate camp back in 2006 when he was just starting Grade 7.

Helping students become debate champions is only part of what SEDA considers success. Thanks to a Capacity Building Grant from SaskCulture, staff spent part of November touring the northern part of Saskatchewan, visiting communities along a route that included Meadow Lake, La Loche and nearly a dozen schools in the area, including those on First Nations reserves. Their visits included meeting with teachers, holding student workshops and providing access to resources so that schools are able to set up their own debate clubs.

"Teachers and students were very receptive to our visits," says DeRoose. "They were thrilled that people from the south came up north to speak with them." DeRoose found the youth to be interested in some lively debate and teachers to be pleased with the experience. One teacher made the comment, "I didn't think my kids would even talk."

SEDA's work took them even further north. They helped hosts organize the National Student Debating Seminar held in Hay River, North West Territories. "We had some interesting sessions on a new form of debating based on the governing style used by the territorial government," explained DeRoose, "It's a consensus style debating, rather than the confrontational format of debate we currently use." The seminar resulted in the development of new resources to be distributed to teachers met on the Northern tour.

Building strong resources have been key to SEDA's success. This past year, the organization produced a series of training videos that will help support the work of debate judges and coaches. "We are seeking new ways of reaching out to those interested in debate," said DeRoose. "Each club will get a video and we will try to make Engage Fall 2011 21 these available online in some way." New online tools have also been a priority. SEDA launched its new web site at saskdebate.com and will continue to work on adding new features to support and celebrate debate in the province. "We are always interested in making debate more accessible," notes DeRoose. "We want to increase our use of social media and to make connections through new media, such as Skype." SEDA currently uses Facebook, LinkedIn and Twitter to help get its messages out.

SEDA is one of the 26 provincial cultural organizations in Saskatchewan that receive annual operating funds from the Saskatchewan Lotteries Trust Fund for Sport, Culture and Recreation.