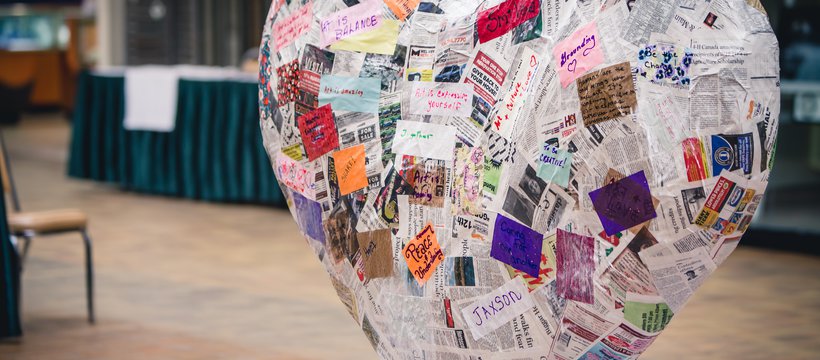 Connecting the heART to Wellbeing
Arts and culture can have a direct connection to health and well-being, and Prince Albert artist Cheryl Ring knows best how to make people explore how the arts feed the heart and mind.
Ring describes her art as an "eclectic mix of colour and texture with a social context." She mostly works with clay but this is adaptable to any medium depending on how it fits her vision for a project.
A few years ago, Ring noticed the heart-shaped theme creeping into her work, and she decided to research how this shape became part of the human psyche as a cultural icon. The heart shape then became a focal point of her artwork.
Ring's interest in incorporating the heart-shape into her artwork was a perfect match to this year's Culture Days' theme of "Creativity".
In the weeks leading up to the 2019 Culture Days celebrations, Ring set up a large heart sculpture at the Gateway Mall. On September 28, as part of Culture Days, she asked participants to share what arts and culture meant to them, and its influence in their lives by writing it on a sheet of Japanese paper. Ring says she really wanted people to consider the value of arts in their daily lives and to be mindful about what they love to do and what feeds their hearts and minds. She also wanted to give them a chance to explore personal feelings and possibly encourage further exploration of other art forms.
Before the Japanese paper was placed, Ring had a newspaper layer, which was applied by students from Wonska Cultural School in Prince Albert while they discussed the heart as a cultural icon and the reason for the layer.
"The result was a large heart covered with a meaningful narrative about how our community connects to art and culture," explains Ring. "The project helps justify arts and culture initiatives for the future and just how necessary it is for municipalities to support."
On a personal level, this project also fits with Ring's belief that health and wellbeing are very important to creating balance in her life. She explains that creating art and enjoying cultural activities allows her to "quiet the noise" inside her head, connect with her spirit, and recharge physically and mentally.
"This project is a direct reflection of my work and spirit. The heart is a symbol all humanity recognizes for its meaning," Ring says. "Community is something I value and want to promote in my city."
She goes on to add, "None of this could have been achieved without the leadership of SaskCulture and all of the funding agencies in Saskatchewan that make events like this possible. Opportunities like these events offered at Culture Days brings people together, creates connection and allows an entire community to experience arts and culture. I cannot thank organizers enough for all of their dedication and hard work!"