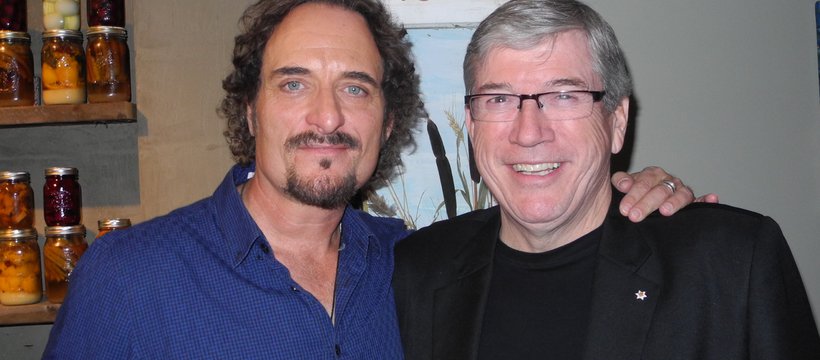 Creative Kids descends into Creative Mayhem
In this issue

Engage - Volume 4, Issue 2, Winter 2014
In an intimate setting at Saskatoon's Weczeria restaurant on Broadway Avenue, men and women clad in leather jackets, jeans and the occasional bandana, chatted alongside a table of tantalizing hors d'oeuvres. The group was social and enthusiastic, with undertones of anticipation and maybe a slight nervousness anticipating the guest of the evening. Moments later, Sons of Anarchy star, Kim Coates, appears on the scene to greet the crowd. Any nervousness subsides as Coates shares his humour and anecdotes, and begins posing for photos with the room of Creative Kids sponsors and VIP ticket holders. Coates' enthusiasm is contagious as he starts signing 8x10 glossies of his "Tig" Trager TV persona, and sharing stories with the group.

So begins Creative Mayhem, a fundraiser coordinated by the Creative Kids Committee in Saskatoon. Jami Young, co-chair, Saskatoon Creative Kids Committee, met Coates a few years earlier through his involvement in various arts advocacy efforts and told him about the Creative Kids program. Coates happened to have a very brief window in the middle of a whirlwind North American tour and wanted to help out. The day before Hallowe'en presented the perfect opportunity for a colossally fun, outlaw-chic, edgy soiree to raise funds for Creative Kids in Saskatoon, his hometown. "It was an amazing experience to work with Kim on this," Young says. "Not only did he so graciously donate his time for the evening, Kim was very engaged in the planning process and absolutely committed to ensuring that the event was a success for Creative Kids."

The second round of the evening's festivities brought guests to the Kinsmen Hall for dancing with country outlaw band Wyatt, a fun photo booth, caricature artist and a chance for more people to mingle with Coates. The silent auction included a Sons of Anarchy poster autographed by the entire cast, generously provided by Coates. The Saskatoon Kinsmen were happy to provide the venue for Creative Mayhem. A month prior, the Kinsmen Club of Saskatoon made a $25,000 gift to benefit Creative Kids applicants in Saskatoon and the event was a way for Saskatoon businesses and Sons of Anarchy fans to match the Kinsmen donation.

Coates's passion for the arts is evident. Although he was only in Saskatoon for a few days, Coates met with a variety of media to discuss Creative Kids, the benefits of the arts and his role in Sons of Anarchy. "Art is really where it's at," he said to the crowd. "You cannot have engineering, farming, business without art." Taking a University of Saskatchewan drama class on a whim helped to ignite his passion for acting. Describing this revelation Coates says, "All of you being here tonight, giving to Creative Kids will help our children lead a better, fulfilling life, which makes for a better society, which makes for better communities."

The Saskatoon Creative Kids Committee also auctioned off an evening with Coates to raise additional funds. The dinner took place the night before Creative Mayhem and the highest bidders were a Saskatoon family that included an aspiring young filmmaker who was thrilled to receive some solid career advice from Coates.

As for Creative Mayhem's impact, Young says that event sponsors are excited by the idea of an annual Creative mayhem soiree. "Everyone at the VIP portion really enjoyed the experience of sharing time with Kim and having the opportunity to learn more about Creative Kids. Sponsors are already asking what is happening next year, eagerly awaiting to see what we come up with for 2014's festivities!"

The entire evening, including the VIP reception, evening of entertainment and silent auction, combined with the Kinsmen sponsorship, means that close to 100 kids facing financial barriers in Saskatoon will have opportunities to learn to play musical instruments, register for dance classes or try their hand at theatre to become the next Tig Trager.