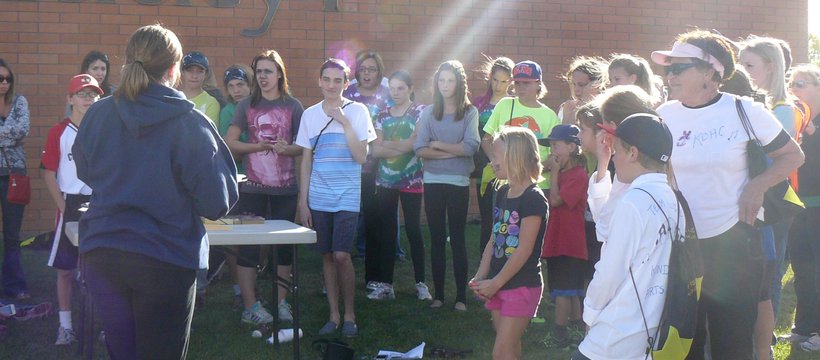 Culture Days includes 'amazing race': How one town got everyone running for culture!
In this issue

Engage - Volume 4, Issue 2, Winter 2014
The Town of Kindersley has been involved with Culture Days since its debut in Saskatchewan in 2010. In 2013, Kindersley upped its game, holding a number of activities including an outdoor concert, heritage walking tours, the unveiling of their new Town Square design, the "K-Town Chow Down", and an innovative engagement opportunity called "Amazing Race: K-Town Edition*".

SaskCulture connected with Wayne Gibson, communications coordinator, Jennifer Metherel-Potter, manager of recreation, and Michelle McMillan, manager of culture and heritage, from the Town of Kindersley. They have been involved in presenting Culture Days activities in Kindersley since Culture Days began in 2010, and were at the heart of the Culture Days weekend in 2013.

SC: Tell us about your Culture Days activities, especially the idea of the 'Amazing Race: K-Town Edition'. What was involved in the race?

Michelle: "Building on the success of previous years in Kindersley, we decided to plan a full weekend of Culture Days events in 2013, with one or two major activities on each of the three days. The 'Amazing Race' involved a series of activity stations where participants completed hands-on challenges or tasks related to the arts and culture groups in Kindersley. Some examples included learning a belly dance routine, constructing a clay sculpture, performing a theatrical monologue, answering historic quizzes and trying square dancing. Participants travelled by foot and were given clues directing them to the next location. Each site was chosen for its historical or cultural significance to the community. Teams ranged in size from two to six members, and ages of participants ranged from five to 80 years old."

SC: What led you to establishing an 'Amazing Race' as part of your Culture Days weekend?

Michelle: "This year we aimed to increase the level of interactivity by creating an active event that encouraged more participation from local groups while exposing participants in a unique way to the many cultural opportunities within our community."

Wayne: "We utilized a well-known brand and adapted it in a fresh way to our local audience."

SC: What was the community response to the race?

Jennifer: "The overall response was exceptional! Ninety participants (representing 20 different teams) preregistered for the 'Amazing Race'. More than 20 volunteers assisted with traffic control and safety, managing activity stations, and logistics. Response from the participants themselves was extremely positive, as well as from community members who became engaged as they witnessed teams racing from one location to another. Participants were asked to complete a survey following the event. Most stated that they thoroughly enjoyed the 'Amazing Race' and would be watching for registration next year."

SC: Would you consider it a successful approach to community engagement?

Jennifer: "Absolutely. The 'Amazing Race' appealed to a different demographic who typically haven't been engaged in cultural activities in Kindersley. In addition, it was successful in attracting interest from a broad range of people due to the unique competition aspect and accessibility for all ages."

SC: What was your favorite part of the whole Culture Days weekend?

Wayne: "I was excited to see the enthusiasm of new Culture Days participants, and encouraged by the continued support for returning events." Jennifer: "I was ecstatic with the number of participants in the 'Amazing Race' event. When we received 10 team applications, I was excited. Then within a week, we reached 20 teams! I was shocked but ready for the challenge of running this event. Overall, our Saturday events ('Amazing Race' and K-Town Chow Down) provided a great sequence of programming."

Michelle: "Overall, I was impressed with the increase in participation. Our ingenuity in this year's programming led to attendance tripling. Furthermore, I was excited to see members of the community experience new activities and opening themselves up to new interests."

SC: What do you think you might do for next year?

Wayne: "One of the successes of this year's events was in solidifying greater participation from local cultural groups, and that will be something we will want to continue to build on so that those groups and individuals will feel empowered to continue to share what they do with the community."

Michelle: "Another success was the increased public awareness of the cultural arts within our community. By hosting an activity that involved participants moving from location to location within the town, and by providing event identifiers (swag bags), we increased the visibility of Culture Days and contributed a positive image to the initiative. The community remains supportive of Culture Days and we are encouraged to see the initiative grow across Canada, locally and nationally."

SC: Any other comments you want to make about Culture Days?

Jennifer: "The Town of Kindersley has been involved in Culture Days since the beginning. Each year since 2010, we have seen attendance increase, as well as the awareness of this national initiative. Annually, the Town aims to involve the diverse local arts and cultural programming groups in the activities and events offered, as a means to promote growth in this sector beyond the dates of Culture Days."

The Town of Kindersley has been nominated in the category of Innovative event at the National Culture Days Congress Awards that will be held in Winnipeg on May 23, 2014. Their unique way of engaging their community through an interactive race that provides opportunities to try out different cultural activities in a fun, competitive environment truly embodies the spirit of Culture Days. It's a great way to celebrate the arts, culture and heritage organizations that are working in their community year round!